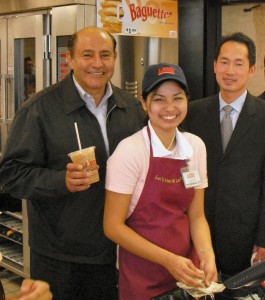 State Senator Lou Correa, at the grand opening of Lee's Sandwiches, in Santa Ana
"State Senator Lou Correa was ranked the top Democrat in Sacramento, in matters pertaining to small business, by the National Federation of Independent Businesses released its annual scorecard this week, awarding 100 percent scores to 35 members," according to the Sacramento Bee.
Scores were based on votes on 11 pieces of proposed legislation. Click here to view the full scorecard.
Congratulations to Senator Correa!
I distintcly recall that Correa reached out to small businesses by conducting a meeting regarding the now defunct Santa Ana Renaissance Plan.  He is always looking out for his constituents.