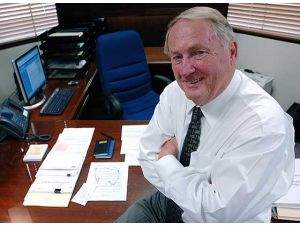 FOR IMMEDIATE RELEASE: Monday, June 17, 2013
Contact: Deidra Powell, Chief Communications Officer, (714) 558-5555
Charles E. McCully Appointed as Interim Superintendent for Santa Ana Unified School District
The Santa Ana Unified School District Board of Education approved the selection of Charles E. McCully to be the interim superintendent as a result of the retirement of Dr. Thelma Meléndez de Santa Ana this summer. Mr. McCully will begin early July leading the sixth largest school district in California while the Board actively conducts a nationwide search for a permanent superintendent.
"We are pleased to have Mr. McCully lead our District in this transition phase. His depth of experience, competence, and leadership will be welcomed," said Board President José Alfredo Hernández, J.D.
Mr. McCully comes with an enormous wealth of experience that includes more than 40 years in education as a superintendent in Fresno Unified School District, Los Alamitos Unified School District, and Albany Unified School District. After retiring from Fresno Unified in 1997, Mr. McCully served in the capacity of interim superintendent for several districts including Sacramento Unified School District, Capistrano Unified School District, and Walnut Valley Unified School District.
"I am looking forward to serving as the interim superintendent of the Santa Ana Unified School District and providing a seamless transition. I look forward to meeting the staff and furthering the goals and objectives of the Board of Education and continuing the good work that has been done under the leadership of Dr. Meléndez," said McCully.
The SAUSD Board hired Leadership Associates to conduct the recruitment and comprehensive search process in the selection of the district's next leader. Mr. McCully will lead the district until a permanent superintendent is appointed later this year.
###
SAUSD Communications Office
1601 E. Chestnut Ave. | Santa Ana, California | 92701
Phone 714.558.5555 | Fax 714.558.5812 | josie.amador@sausd.us