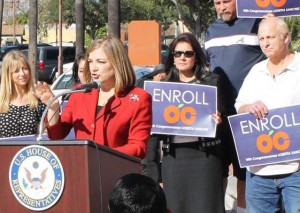 Congresswoman Loretta Sanchez, Representing California's 46th Congressional District
STATEMENT, FOR IMMEDIATE RELEASE: March 13, 2014
MEDIA CONTACT: Barb Solish, 202-226-8373, Barb.Solish@mail.house.gov
REP. LORETTA SANCHEZ PUSHES FOR HIGHER LATINO ENROLLMENT IN COVERED CA AHEAD OF MARCH 31st DEADLINE
WASHINGTON – U.S. Representative Loretta Sanchez (CA-46) today released the following statement in response to new enrollment numbers from Covered California, the state's Affordable Care Act health insurance marketplace.
"Latinos represent more than half of California's uninsured population but, despite increased investments by Covered CA, still only make up 22 percent of enrollees. So while the number of Californians who have enrolled in quality, affordable healthcare is impressive and far exceeds the rest of the nation, there is much to be done before the March 31st deadline and next fall's open enrollment period.
"I will continue to put the emphasis on signing up 'in person, right here, right now,' by connecting residents with a least 11 more bilingual enrollment events in Orange County over the next 18 days. We're sprinting towards the finish line to make sure every Californian is able to sign up for quality, affordable health insurance."
Below are upcoming confirmed enrollment events. Rep. Sanchez's website, www.lorettasanchez.house.gov, will be updated as new events are added.
AltaMed Health Insurance Resource Center
2720 S. Bristol St
Santa Ana, CA 92704
Appointments: 1-877-462-2582
Saturday, March 22n­­­­­d – 9:00am – 3:00pm
Saturday, March 29th – 9:00am – 3:00pm
Monday, March 31st – 9:00am – 3:00pm
Santa Ana Public Library
26 Civic Center Plaza
Santa Ana, CA 92701
714-647-5267
Tuesday, March 25th – 3pm -7pm
Thursdays, March 20th, 27th – 10am – 1pm
Saturdays, March 15th, 22nd, 29th – 10am – 3pm
WeConnect Community Resource Fair
Santa Ana High School
520 W. Walnut St
Santa Ana, CA 92701
Saturday, March 15th – 9:00am – 2:00pm
Orange County Employees Union Offices
830 N Ross St
Santa Ana, CA 92701
Saturday, March 29th 10:00 am – 3:00 pm
###
Congresswoman Loretta Sanchez is proud to represent California's 46th Congressional District, which includes the cities of Anaheim, Santa Ana, and parts of the cities of Garden Grove and Orange in Orange County. She serves as Ranking Member of the House Armed Services Subcommittee on Tactical Air and Land Forces and the second ranked Democrat on the Committee on Homeland Security. Rep. Sanchez is also a member of the fiscally conservative Blue Dog Coalition and sits on the bipartisan, bicameral Joint Economic Committee.