Isn't it time for Santa Ana to have a voice on the O.C. Board of Supervisors?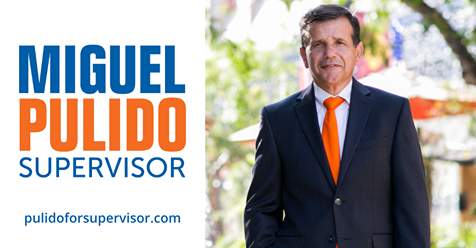 Paid for by Miguel A. Pulido for Supervisor 2020 (ID #1422663)
Congresswoman Loretta Sanchez, Representing California's 47th Congressional District
PRESS RELEASE, FOR IMMEDIATE RELEASE: January 17, 2012
MEDIA CONTACT: Adrienne Watson 202-309-0825
SANCHEZ CONGRATULATES THREE OC STUDENTS HONORED WITH FULBRIGHT GRANTS
Advertisements
Did you suffer a slip and fall too? Was it at a public place like a store, restaurant, or a sidewalk? Was it someone else's fault?
You deserve compensation! Unsure if you have a case? FREE Consultation! Looking for a second opinion? Give us a call at (323)746-8099!
Si usted sufre un resbalón por la negligencia de otra persona llámenos al (323) 746-8099. Nosotros peleamos por sus derechos. Sigan nuestra pagina.
@Sasooness Law Group. https://www.facebook.com/SasoonessLawGroup/
WASHINGTON, D.C. – Congresswoman Loretta Sanchez (CA-47) today congratulated three local students who were selected to receive the prestigious Fulbright Scholarship Award. Leslie Chanthaphasouk of Santa Ana, Dan Burk of Irvine and Marcella Khelif of Irvine have been selected to be Fulbright Scholars for their academic excellence in each of their chosen fields of study. Ms. Chanthaphasouk received an English Teaching Assistantship in Laos, Mr. Burk received a grant to study law in Germany and Mrs. Khelif received a grant to study political science in Korea.
"Congratulations to Leslie, Dan and Marcella on this enormous achievement," said Sanchez. "From Laos to Germany to South Korea, these talented students will represent Orange County and make us proud as they teach and conduct research. The Fulbright scholarship is highly competitive and I'm pleased our community has produced such exceptional students!"
The Fulbright Program is sponsored by the U.S. Department of State. It was established by Congress in 1946 to help build mutual understanding between the people of the United States and the rest of the world. The program offers opportunities for students, scholars, and professionals to undertake international graduate study, advanced research, and teaching in schools worldwide.
Congresswoman Loretta Sanchez is proud to represent California's 47th Congressional District, which includes the cities of Anaheim, Garden Grove, Santa Ana, and parts of Fullerton in Orange County. She serves as Ranking Member of the House Armed Services Subcommittee on Strategic Forces and a senior member of the Committee on Homeland Security. Rep. Sanchez is also a member of the fiscally conservative Blue Dog Coalition and sits on the bipartisan, bicameral Joint Economic Committee.
# # #
United States House of Representatives
1114 Longworth House Office Building • Washington, DC 20515
Phone: 202-225-2965 • Fax: 202-225-5859