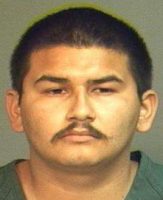 Eric Vasquez Ortiz, 28, a Santa Ana gangbanger, was sentenced to 25 years to life in prison on Friday after three trials for the same murder, according to the O.C. Register.
Ortiz shot and killed Emeterio Adame, 54, outside his Santa Ana home back in 2006. He was convicted of first-degree murder and faced life in prison without parole for that shooting death. However he was granted a new trial in 2015 by a Judge who found that he had been a victim of the Orange County jail-snitch fiasco.
Five O.C. Sheriff Deputies refused to testify about their use of informants as they invoked their Fifth Amendment rights. That doomed many criminal cases and made the OCDA and the OC Sheriff look pretty bad in the process. The Sheriff has since opted not to run for re-election while the OCDA is running again this year.
Ortiz' second trial resulted in a deadlocked jury and ended in a mistrial when they voted 10-2 in favor of acquittal.
Ortiz was ultimately convicted of second-degree murder in his third trial last year.
Ortiz and his fellow gangbangers were hunting for their rivals when they shot Adame, who turned out to be an innocent bystander. He was shot in the back. Ortiz was not arrested for that murder until 2011, five years after he shot Adame.
Ortiz' defense lawyer argued that his client was not at the scene of the 2006 shooting and that he was victimized by a fellow gangbanger who tried to blame him for the murder.
Although Ortiz was ultimately found guilty for Adame's shooting he was found not guilty in the shooting of a second victim, Benjamin Lopez, who survived that ordeal. Ortiz was previously convicted of killing Lopez in his first trial.