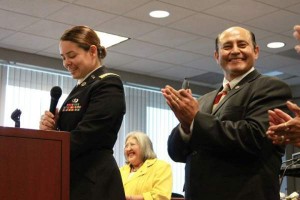 2014 WOMEN MAKING A DIFFERENCE AWARDS & AFTERNOON TEA RECEPTION
The call for nominations is now open!
Each year Senator Lou Correa (D-Santa Ana) honors women who are making a positive difference in the community.  Honorees represent all sectors of the community including veterans, teachers, nonprofits, healthcare, government, trade and professional organizations.
Nominations are now being accepted for the 2014 roster of Senator Lou Correa's Top 100 women luminaries.
Criteria
Candidates will be evaluated based upon the following criteria:
• Have successfully served as a leader or managed an organization or company;
• Shown the ability or power to effect change in the community;
• Demonstrated a willingness to share expertise with others in the field;
• Served as a role model or mentor to other women; and
• Assumed a leadership position in their respective industry outside of her own organization or company.
To Nominate
Attached please find a nomination form.  Please fill out the nomination form and email it to Asia.cunningham@sen.ca.gov or fax the form to Asia Cunningham at 714-558-4111.
Deadline
Applications will be accepted now through close of business, March 4, 2014.
Ceremony
Honorees will be recognized at an awards ceremony and afternoon tea reception, Thursday, March 27, 2014. Please plan to join the festivities and celebrate the exception women in our community.  Additional details to follow.