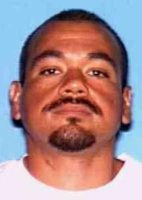 Juan Manuel Reyes, 36, who was accused of kidnapping an ex-girlfriend who gave birth to their son during her 11 days of alleged captivity, was convicted on Thursday of leading Costa Mesa police on a wild chase in which he rammed two patrol cars, triggering an officer-involved shooting, according to the O.C. Register.
Reyes was convicted of two counts of assault with a deadly weapon, both felonies, and one count each of felony evading and misdemeanor hit and run. Reyes is scheduled to be sentenced on Jan. 19.
The kidnapping charges against Reyes remain pending as so far the jurors have only heard evidence about the pursuit Reyes led the Costa Mesa police on.
Reyes had apparently eluded the SAPD in an earlier pursuit but a Costa Mesa police officer spotted him just before 5 p.m. on Sept. 11, 2012, at 3028 Coolidge Ave.
That police officer was in uniform but he was driving an unmarked police car. He tried to pull over Reyes when he saw him driving his girlfriends' car.
Reyes stepped on the gas instead of pulling over and the wild chase was on, according to Orange County Deputy District Attorney Caroline Smith's opening statement.
Reyes made his way down Baker Street, with two police cars behind him, until he turned into a Mobil gas station after coming up on a red-light traffic signal.
Reyes tried to maneuver his girlfriend's car around a police car that blocked a driveway at the gas station but in so doing he crashed into the other police car. Reyes then desperately made a 180 degree turn only to crash into the other police car.
Reyes then doubled down on his stupidity by accelerating the car towards a police officer who got out of his car, with his gun drawn, and approached the suspect.
The other police officer saw Reyes apparently pump his fist and as he thought the suspect was armed he fired his gun at the suspect three times but only struck the vehicle.
A woman witnessed all of this as she was pumping gas at the station. She said she thought the police officers' safety was threatened by Reyes.
Ultimately the pursuit began again, reaching speeds of up to 80 mph, on city streets.
Eventually Reyes got caught up in rush-hour congestion and he squeezed the vehicle through the heavy traffic, swiping the side of one woman's car – which broke glass and injured her arm.
Reyes also drove right into oncoming traffic at Main Street and Red Hill Avenue and crashed again with one of the police cars in pursuit. That police officer got out of his damaged vehicle with his gun draawn and Reyes just backed up the car and continued to flee from the police.
Eventually the car that Reyes was driving broke down, at Sunflower Ave and Main Street, in Santa Ana. The pursuing police officers finally stopped the vehicle, a Toyota Camry, as Reyes turned into a parking lot.
Reyes was then arrested, along with a female passenger.
Incredibly Reyes defense attorney, Renee Garcia, told the jurors that while Reyes was guilty of some crimes the case was over-filed. She explained that poor Reyes was "scared for his life." She said that he only fled because one of the police officers fired on him.
I can't imagine any juror would feel sorry for this total loser.