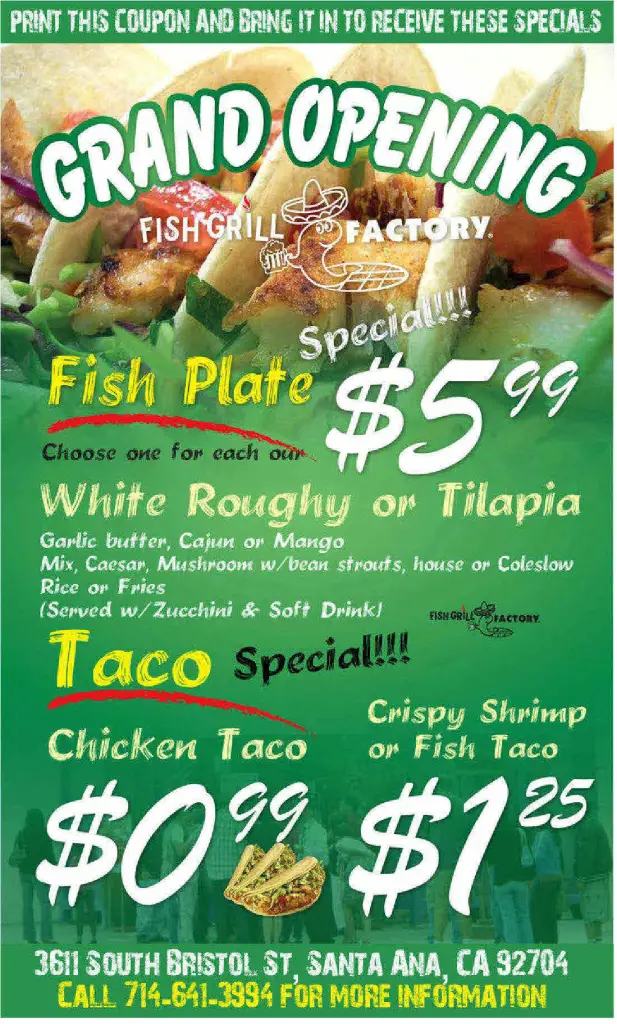 It is hard to believe that new restaurants are still opening in town, considering the recession, but here we go again.  The new Fish Grill Factory has opened in Santa Ana.  Here is an excerpt from a review in the OC Weekly:
Well, a week ago I checked in for the Grand Opening, and it was exactly as I had imagined, but in grander scale that I did not expect. The room seemed like it could hold three California Fish Grills (and one Malibu Fish Grill). The menu? Ambitious. The appetizers number nine items, and include something called a guacamole egg roll. Garlic butter and Cajun are saucing options, but also mango. There's white roughy, but also giant scallop. How did it all taste? Well, that's where you come in. Dish if you had a dish.
Click here to read their menu.  Click here for a map.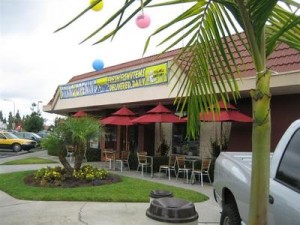 Picture Courtesy of the OC Weekly
They are located at 3611 South Bristol St., in Santa Ana, near MacArthur.
Here are a couple of reviews from Yelp:
4 stars for what it can really become…3 stars actually based on value and overall taste.  The Roughie is pretty damn close to Cali Fish Grills version, which I love…the fish tacos seemed to be missing something that made it kind of bland…the calamari is terrible…the clam chowder is not too bad (little fishy and lacked punch though), but could be a lot worse…the guacamole is nice and refreshing (served with Dorritos is a bit strange though)…salsa bar lacks a really decent selection…the variety of beers on draft are quite nice (hit me in the soft spot).  

All-in-All there is a ton of potential.  Serving nicely priced fresh fish in this area could be a cash cow, however, they need to clean up the edges and refine their menu and flavors.

Also, the cashier (as the gf stated) will be the death of them if they don't move her out.  I changed my order but it shouldn't have taken a Beautiful Mind to figure out the price difference.

Give this place a shot.
Here is a second review:
This place really has a lot of potential.  We walked in and were greeted by the huge menu on the wall next to the cash register.  They were very understaffed during the lunch hour and it showed … badly!  The two ladies were trying to take orders, expedite, bus tables, and everything else in between!  It was like watching a train wreck.  About three groups asked for their order to go after waiting over half an hour.  Our food took a good 20 minutes and we didn't receive one taco and an order of fries till we left.  We asked for those things to go like the other people.

The food was really good, the ambiance was nice, but the service was just horrible.  It was more them being understaffed and not prepared at all.  I hope they really get organized because this place could be great!

They also have an assortment of beers on tap and two big LCDs!
It sounds like they have some service issues to iron out.  Give them a week or so and let them work out the wrinkles…