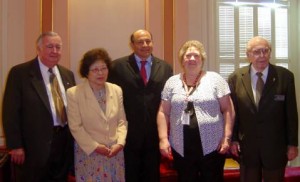 FROM FILE: State Senator Lou Correa (center) with members of the California Senior Legislature: From left to right: Senior Senator Joseph Murphy, Senior Senator Joanna Kim-Shelby, Sherry Jenkins, Executive Secretary, and Senior Senator Vernon Uecker.
For Immediate Release
October 29, 2009Contact:
Lina Hamilton (916) 651-4034
California Senior Legislature Honors Senator Lou Correa as Legislator of the Year
SACRAMENTO, CA – The California Senior Legislature (CSL) this week announced Senator Lou Correa as the recipient of the Senator Henry Mello Award. This award is given by the CSL each year during its annual legislative session to a member of the Legislature for her or his "distinguished legislative service."
"Senator Lou Correa has been a true friend and advocate for seniors in California. Throughout his years of service in the Assembly and in the Senate, he has championed a number of legislative proposals, not only addressing our issues, but also making sure that the quality of life for the seniors in our state will continue to improve," said Senior Senator Lola Young, Chair of the CSL's Joint Rules Committee. Senior Senator Young went on to say: "It is with great pleasure that the CSL has presented Senator Correa with the 'Henry Mello Award', in appreciation for his dedication and contributions to California senior citizens."
The primary mission of the CSL is to assemble legislative proposals that affect senior citizens at the state and federal levels and to introduce them to members of the State Legislature or the Congress. The CSL is a volunteer body of 40 Senior Senators and 80 Senior Assemblymembers who are selected in elections supervised by the Advisory Councils in the 33 Planning and Services Areas (PSAs) in California, which were established by the federal Older Americans Act of 1965. The CSL was founded largely through the efforts of Senator Henry Mello, who in 1980, requested that the California Commission on Aging call a session of the Silver-Haired Legislature through ACR 129. In 1982, this became the California Senior Legislature.
"I am honored to receive this award. I am very proud to support the contributions of this extraordinary body that works tirelessly to make sure that California's senior citizens' issues are heard and acted upon by their elected officials. We need our seniors to identify policies that ensure the best possible quality of life for our state's senior population," said Senator Lou Correa.
This year, Senator Correa introduced three legislative measures for the CSL:
Senate Bill 91, (SB 91- signed into law) allows the CSL to continue its extraordinary work on behalf of California senior citizens, by extending the contribution provisions from 2010 until 2015 for the California Fund for Senior Citizens under the Personal Income Tax Law.
Senate Joint Resolution 4 (SJR 4- Chaptered) urges the President and Congress of the United States to establish a federally controlled Alzheimer's Silver Alert program to locate missing seniors who have wandered away from home and create a federal grant program to aid states in establishing local Silver Alert programs.
Senate Concurrent Resolution 28 (SCR 28- Chaptered) declared May of 2009, as Senior Voluntary Month to honor the contributions of California's senior volunteers.
Thanks to the advocacy efforts and hard work of the CSL, all these measures received broad support from both houses of the legislature, senior advocacy individuals and organizations.
In closing, Senator Correa added: "I commend the CSL members for their extraordinary work. I encourage them to continue advocating for the quality of life of California's seniors and continue bringing legislative proposals to our attention on behalf of their constituents as they convene for their 29th Annual Legislative Session this week".
Senator Correa represents the 34th Senate District, which includes the cities of Anaheim, Santa Ana, Garden Grove, Westminster, Stanton, Buena Park, and Fullerton.
###
Lina Hamilton
Legislative Aide
Office of Senator Lou Correa, 34th District
(916) 651-4034
lina.hamilton@sen.ca.gov