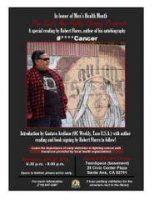 City of Santa Ana
Community Alert: Santa Ana Public Library Welcomes Author Robert Flores
On June 23, 2016 in celebration of Men's Health Month, the Santa Ana Public Library welcomes local author, Robert Flores, for a reading and book signing of F*** Cancer.
F*** Cancer is the true story of how one man beat the odds and survived his fight with cancer. While many people shy away from the very word "cancer," Robert Flores, a mild-mannered butcher from Santa Ana, California, chose to face the demon head-on and beat stage IV colon cancer into remission, surviving the hardest moments of his life.
Most people lack the fortitude it takes to detail their own personal hell, but then, Robert Flores is no ordinary man. He is Robert the Bold. Cancer is a villain that affects us all and #****Cancer is an uplifting and triumphant account of the trials and tribulations experienced by one man in the battle of his life.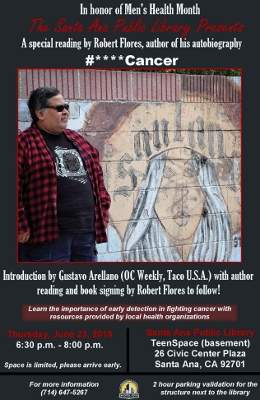 Robert's motivation for writing the book was to give people afflicted with the disease some hope, some answers, and to give them the strength to never give up. Also included in the book are photographs by Los Angeles photographer, Art Meza (Lowriting: Shots, Rides & Stories from the Chicano Soul), and a foreword by Gustavo Arellano (Taco USA: How Mexican Food Conquered America, Bordertown).
The Santa Ana Public Library will hold a live reading of #****Cancer on Thursday, June 23, 2016 from 6:30 p.m.- 8:00 p.m. at the Santa Ana Public Library's TeenSpace (basement level). There will be an introduction by Gustavo Arellano, reading of selected sections of the book by Robert Flores, followed by a question and answer session.
Books will be available for purchase and signing. Resources and information promoting men's health will also be available. Attendees will have an opportunity to participate in a drawing of gifts provided by local organizations. In addition, everyone will have a chance to sign up for this year's Summer Reading Program during the event.
Registration and seating will begin at 6:00 p.m. Two hours free parking validation will be provided by the library for those attendees who park in the parking structure next to the library. Space is limited, please arrive early. Childcare will be available for this event.
THE SANTA ANA PUBLIC LIBRARY IS LOCATED AT 26 CIVIC CENTER PLAZA, SANTA ANA, CA 92701 (corner of Civic Center and Ross Street).
For more information, call (714) 647-5267 or keep up with the Santa Ana Parks, Recreation and Public Library on social media @SantaAnaPRCSA