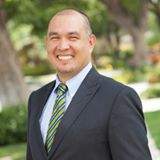 FOR IMMEDIATE RELEASE: June 9, 2016
Contact: Rigo Rodríguez, (949) 478-4162
Dr. Rigo Rodríguez Announces Candidacy for Santa Ana School Board
(Santa Ana, CA) – CSU Long Beach professor and school district parent, Dr. Rigo Rodríguez announced his candidacy today for Santa Ana School Board.
"I want all students to have safe and excellent schools that prepare them for college and a career." Dr. Rodriguez added, "As the youngest of 13 of a farmworker family, I experienced the economic hardships and social isolation that many families face in Santa Ana. Fortunately, I attended a great public grade school that inspired me and prepared me to stay on the path to success. Although I attended four different high schools in four years in two different countries and three states, I had the motivation and skills to get to college."
Dr. Rodríguez enrolled at UC Irvine and double majored in Comparative Literature and Spanish Literature, graduating magna cum laude. In his senior year at UC Irvine, his peers elected him as president of the student government. He went on to get a Master's Degree in Urban and Regional Planning from UC Irvine and earned a Ph.D. in Geography at the University of Southern California. He is a tenured professor at California State University, Long Beach.
"Teachers and school staff are central to student success," Dr. Rodríguez noted. "As an educator myself, I understand how challenging it is to teach effectively. This is why the School Board must ensure teachers and classified employees have enough resources and a positive environment to do their work well," concluded Dr. Rodríguez.
Dr. Rodríguez underscored that parents must have effective representation on the Santa Ana School Board. "Having a person on the School Board who represents parent views is vital to dealing with issues of safety, school climate, and academics." Dr. Rodríguez continued, "having two children in elementary school and one in middle school keeps my ears very close to the ground on what's happening in our schools and what our parents need to help our children succeed."
Dr. Rodríguez and his wife, Rosalba Hernández—a community college counselor—are raising and educating their three children in Santa Ana schools. Nadya, Emilio, and Katya will be entering the third, fifth, and seventh grades, respectively, at El Sol Science and Arts Academy, a nationally recognized dependent public charter school created by the Santa Ana School Board. Over the past four years, Dr. Rodríguez has served on El Sol's School Site Council.
"I believe in local control," Dr. Rodríguez stated. "The Santa Ana School Board approved El Sol to address student needs, but today the Orange County Department of Education is approving charter schools left and right without concern for our district. I will fight hard to ensure the Santa Ana School Board retains the power to make decisions about our local school system," Dr. Rodríguez punctuated.
Dr. Rodríguez has spent his career working in field of education and community-based non-profit organizations to promote success for all children and families. Dr. Rodríguez is currently president of the Board of Director for Delhi Community Center in southeast Santa Ana, where he started his career in 1993. He previously served on the City of Santa Ana's Community Redevelopment and Housing Commission and Planning Commission.
* * *
Dr. Rigo Rodríguez' Campaign Kickoff Party will be held on Thursday, June 30, 2016, at 5:30 PM at 2128 N. Westwood Avenue. Please RSVP at rigo@rigo4schoolboard.com.
Visit www.rigo4schoolboard.com to learn more about Dr. Rigo Rodríguez and to donate to the campaign. He can be reached at (949) 478-4162 or at rigo@rigo4schoolboard.com.
You can also mail in your donation to the following address: Dr. Rigo Rodriguez for School Board 2016, FPPC ID# 1384240, 1440 N. Harbor Blvd., Suite 707, Fullerton, CA 92835.