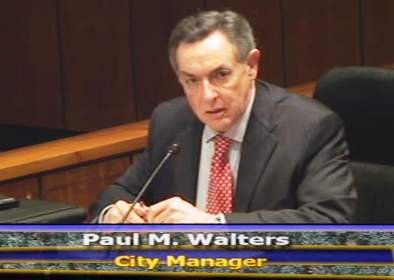 The Santa Ana Council Majority has placed an item, 1C, on the agenda for the next Council Meeting, on Jan. 22, that reads: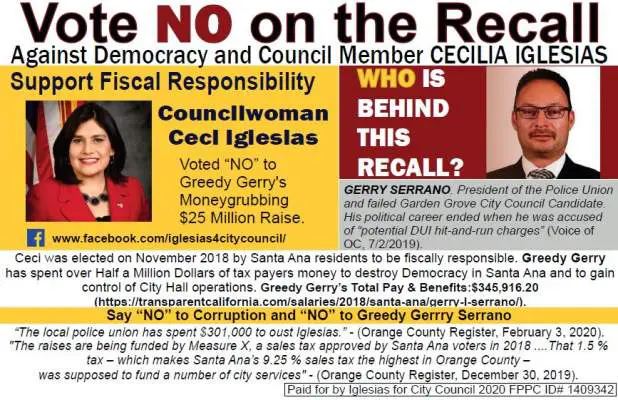 PUBLIC EMPLOYEE EVALUATION OF PERFORMANCE AND/OR

POTENTIAL DISMISSAL/RELEASE pursuant to Government Code Section

54957(b)(1)

Title: City Manager
This is it folks.  They are going to move to fire our City Manager, Paul Walters.  They apparently did not learn a thing from the last Council meeting, on Jan. 7, when dozens of local residents and business leaders, including OCTA Chairman Greg Winterbottom, SAUSD Trustee and Local Attorney Jose Hernandez, and Com Link Chair Evangeline Gawronski, ripped them a new one for threatening to fire Walters. Imagine how many folks will turn out for next week's meeting?
Isn't it time for Santa Ana to have a voice on the O.C. Board of Supervisors?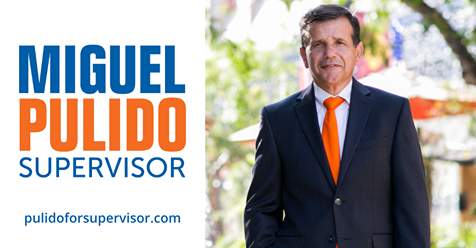 Paid for by Miguel A. Pulido for Supervisor 2020 (ID #1422663)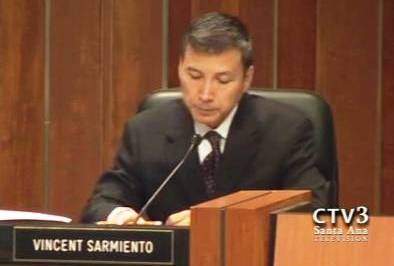 Council Members David Benavides and Angelica Amezcua were absent last time and Michele Martinez left early.  This time presumably they will all be there.  Last time Council Member Vince Sarmiento and Mayor Pro Tem Sal Tinajero had no comment.  Will the cat get their tongues again?
Advertisement
Is your employer a mess? Call Sasooness.
In the state of California for every 5 hours worked an employee must get a 30 minute, uninterrupted lunch break. For every 3 hours worked an employee must get an uninterrupted 10-minute rest break. Working over 8 hours in a day or 40 hours in a week is due overtime. Don't let your employer screw you! Give us a call at 323 746-8099.
En el estado de California por cada 5 horas de trabajo su patrón le debe permitir tener un receso de media hora sin interrupciones. Si trabaja más de 8 horas en un día o más de 40 horas de trabajo en una semana su patrón le debe pagar tiempo y medio. No deje que su patrón abuse de su trabajo. No importa que no tenga papeles. Usted tiene derechos. Llamenos al 323 746-8099.
No one has as of yet offered up a good reason to fire Walters.  That is because there is no foundation to do so.  By firing him, the Council majority will return him to the SAPD, where he will once more serve as the Chief of Police.  However they will likely name Santa Ana Parks and Rec Agency Director Gerardo Mouet as the interim City Manager and he will be able to dismiss Walters from his post at the SAPD as well.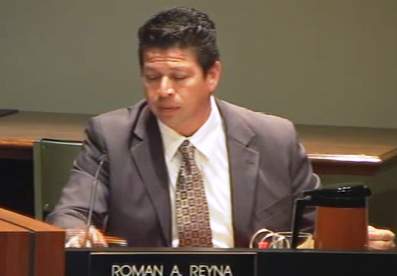 In the end we the voters will be saddled with a huge settlement that Walters is due, contractually.  And we will end up with a lesser City Manager.  All of this apparently is being engineered by labor and by a Council majority that has forgotten who they serve, in their rush to attack Walters and our popular Mayor, Miguel Pulido.
All Walters did was serve our city.  He saved us from a budget crisis, last year, that the Council created.  And he drove crime down in our city to levels not seen in decades.  He is owed a city statue. Instead the Council majority is fitting him with a noose – in order to punish Pulido.  They will be punishing all of us.  What next for this foul bunch?
Be sure to show up on Jan. 22 at 5 pm at the next Council meeting.  Let's take a stand for Walters!