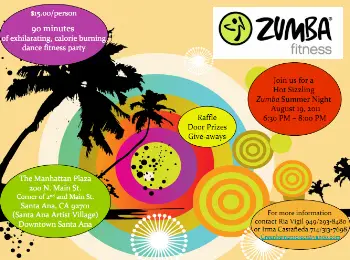 Join us for a Hot Sizzling Zumba Summer Night, this Friday, August 19, 2011, from 6:30 PM – 8:00 PM, at the Manhattan Plaza in the Santa Ana Artist Village (downtown Santa Ana), located at 200 North Main Street, in downtown Santa Ana.  Only $15.00/person for 90 minutes of exhilarating, calorie burning dance fitness party!
Please support our on-going efforts to help a local organization called The Green Being Project. This organization works on local projects such as community gardens and health/wellness workshops for the body and the planet!!! Help us in our efforts to be as Green and Lean 😀 
A portion of the contributions to The Green Being Project will help fund more health workshops/community gardens & eco-projects.
There will be an elixir juice bar with the most healthful juices ~ Organic Vegetables and Fruits. There will be a live DJ and Drummer to enhance the experience. Plus a raffle and door prizes!  Don't miss it!!!
Pre-purchase your ticket for $15…check out what your contributions go to @ www.santaanapeoplesgarden.org (a Green Being Project).
For more information contact Ria Vigil 949/293-8480 or Irma Castañeda 714/313-7698 Greenbeingproject@yahoo.com.