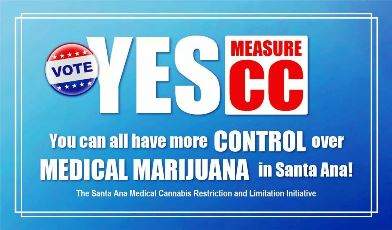 The Yes on Measure CC (Santa Ana Medical Cannabis Restriction and Limitation Initiative) campaign is launching this Saturday, August 30, 2014, from 12 noon to 2 pm at 117 W. Fourth St., in Santa Ana.
Come by and learn how you can volunteer to help save safe access to medical marijuana in Santa Ana.  RSVP to Kandice@yesonmeasurecc.com.
About Measure CC:
Santa Ana passed a ban on Medical Cannabis Collectives and Cooperatives in 2007 but there are more than 80 locations still operating illegally and not paying taxes. The City Council has created the current situation by their failure to act. The prohibition on Medical Cannabis Collectives and Cooperatives is not working and perpetuating the illicit and criminal distribution of marijuana in the community. A sensibly regulated cannabis industry will help enhance and promote public safety.
Voting YES will replace a ban with sorely needed rules and regulations that every other industry is afforded. It will only allow a limited number of approved facilities determined by Santa Ana's population and estimated number of patients, will require these approved collectives to be located only in certain areas and will require the Collectives and Cooperatives to pay an additional 2% on top of the standard sales tax rate. These new revenues can then be allocated by our City Council to our general fund and used for purposes such as public safety, code enforcement, community services and maintenance of our parks. This measure includes community protection actions including an administrative registration process and will place approved collectives only in certain business zones and requires them to be 600 feet away from schools, consistent with all state laws. All facilities must also meet strict security standards and be compliant with the most recent Attorney General's guidelines
California voters passed the Compassionate Use Act in 1996 but voting YES on this measure will fulfill Santa Ana's legal requirement to provide safe access to legal medical cannabis while regulating approved facilities and raising greatly needed revenue for Santa Ana.