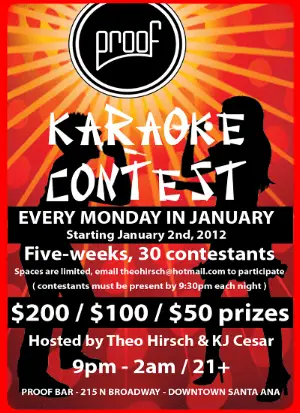 How would you like to win $200, $100 and $50 prizes?  If you can sing, you can win at Proof Bar's Karaoke Night, hosted by Theo Hirsch and KJ Cesar, coming up on Monday night, January 23 and 30, 2012 from 9pm to 2:00am.
Theo has changed the rules of the contest. Everyone will be competing every Monday for points, one vote equals one point, very simple. If you are serious about being in this contest please be here every week or you will not be able to score points. Theo will not disqualify you for missing a week out of the next 4 Monday's in January.  There were no points scored last week, last week was a practice round, Theo just didn't know it!
TO SIGN UP FOR THIS EPIC KARAOKE CONTEST, FACEBOOK: Theo Hirsch or email: theohirsch@hotmail.com- Contestant slots are limited!
Contestants must be at Proof bar Every Monday In January @ 9pm SHARP!
KARAOKE CONTEST @ PROOF // Every Monday in January.  Five weeks, 30 contestants.
Cash prizes: 1st $200, 2nd $100, 3rd $50.