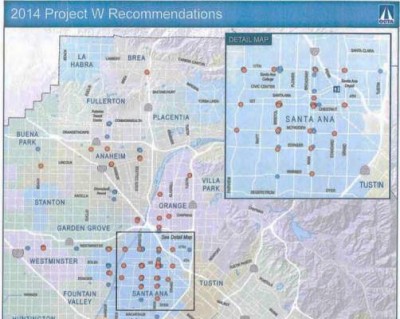 FOR IMMEDIATE RELEASE: July 14, 2014
FOR MORE INFORMATION: Joel Zlotnik (714) 560-5713; Eric Carpenter (714) 560-5697
Upgrades Headed to Busiest Bus Stops in Orange County
OCTA Board approves funding to improve passenger experience and provide real-time bus scheduling information
ORANGE – More than $1.2 million is headed to upgrades at 51 of the busiest bus stops in the county, after the Orange County Transportation Authority voted Monday to award funding through Measure M.
The upgrades are part of the Measure M Safe Transit Stops program. The program provides funding for passenger amenities at the 100 busiest bus stops in Orange County, which is determined by average daily weekday passenger boardings.
Cities throughout Orange County with the 100 busiest stops determined what upgrades were needed and then applied to OCTA for funding. All 51 project applications were approved. The remaining 49 locations did not need immediate improvements and will be reassessed in 2016.
Upgrades will include installing new transit shelters at locations where there are currently no shelters, replacing aging shelters, providing shade and repairing amenities that have become run down over time. Bike racks and trash receptacles also will be added at select stops. Improvements will take place in the cities of Anaheim, Brea, Costa Mesa, Irvine, Orange, Santa Ana and Westminster.
While OCTA funds the projects, the cities will be responsible for designing, constructing and maintaining the bus stop improvements. The improvements are funded by Measure M, the half-cent sales tax for transportation improvements that was approved by voters in 2006.
The board also approved $370,000 to expand and improve real-time bus schedule information through the regional text4next program.
The current system allows cell phone users to receive the next three scheduled arrival times via text message for a specific stop. The $370,000 approved will fund the software engineering needed to expand the text4next system. This will provide real-time arrival information for specific stop locations selected by the passenger. OCTA's goal is to complete the design and engineering for this text4next system enhancement within 18 months.
For a map and detailed list of the approved projects, please see the attachment.
# # #