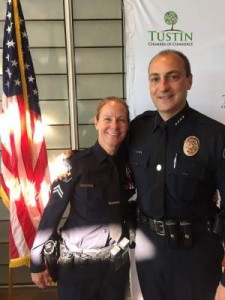 The Tustin Police Department has recognized their police officer, Bonnie Breeze, as their Officer of the Month for March, 2015, after she saved a construction worker in Santa Ana when he was having a heart attack at his jobsite.
Breeze was transporting a subject who had two felony arrest warrants to the Orange County Jail, on February 26, 2015, in her squad car.  She was stuck in construction-related traffic near First Street and Grand Ave., in Santa Ana, where Grand Ave. is being widened.  As Breeze waited for the light to change, one of the construction supervisors ran up to her vehicle and said that one of the workers on his job had suffered a heart attack.
Breeze quickly activated her overhead lights and proceeded through the intersection, where she found the stricken male construction worker slumped in a ditch.  Breeze requested an additional police unit with a defibrillator to respond to a Code 3, unfortunately there was no available unit due to a high number of calls for service.
Breeze quickly took charge of the situation and instructed the construction workers to move the fallen man from the ditch, and lay him on his back on the pavement.  Breeze then assessed him and determined that he was not breathing and had no pulse.  She then began CPR.  Within minutes he began to gasp.  Breeze stopped the compressions and instructed one of the workers to adjust the patient's head, to keep his airway open.  But he stopped breathing again so Breeze restarted CPR.
After about four minutes paramedics from the Orange County Fire Authority arrived at the scene and took over the life-saving effort.  They used a defibrillator and the man began to breathe on his own.  He was transported to the Western Medical Center in Santa Ana and was reported to have been alert and talking when he arrived.
The incident was captured on the MAV's recorder and the arresstee that was being transported to the OC Jail is heard in the background praying for the man to surive.
For her dedication, valiant efforts and tenacity in saving this man's life Officer Breeze has been selected as the recipient of the Tustin Chamber of Commerce's Officer of the Month award for the month of March, 2015.  Congratulations to Officer Breeze!