If you have a troubled young person in your life there is a way to help them here in Santa Ana called Shortstop.  Shortstop is a unique juvenile crime diversion program that has served juvenile offenders and their families since 1980. In 1989, Programa Shortstop was developed as a cultural adaption Spanish language version of Shorstop.
As a cost-effective, comprehensive alternative to prosecution, Shortstop utilizes effective, science-based models for reducing delinquency among youth. The program incorporates a strong restorative justice plan, which makes for a highly effective diversion program. Shortstop teaches youth offenders to take responsibility for their actions through decision-making strategies designed to result in positive future choices.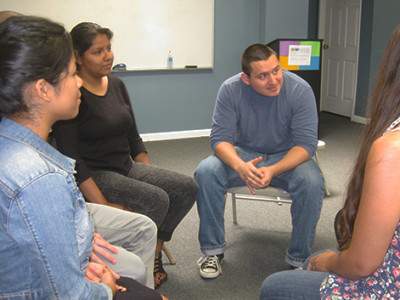 Shortstop breaks the cycle that turns young people into repeat offenders by using three simple concepts: 1) reach youth early; 2) involve the parents; and 3) use a graphic courtroom setting with legal professionals and parolees. Additionally, through linkages with community partnerships, Shortstop provides comprehensive wraparound services. Shortstop is part of a system reform approach that collaborates with key justice stakeholders on Juvenile Detention Alternative Initiative efforts in Orange County.
SHORTSTOP SERVICES
The overwhelming success of Shortstop is largely due to the fact that we incorporate families into our program services. Services are provided in both English and Spanish by bilingual, bicultural staff, and focus on increasing protective factors for at-risk youth, including self-control, peer refusal skills, parental monitoring, school bonding, academic competence, strong neighborhood attachment, and participation in prosocial activities.
Activities include providing youth and families with:
A one-hour clinical intake assessment, as needed
Two four-hour program sessions
Case management and referral services, as needed
When kids come to Shortstop, they commit to two sessions of life lessons and tough questions. Program sessions are held in a courtroom and attended by both youth and parents. Here, youth are introduced to the stark reality of the juvenile justice system. They visit a holding cell, listen to volunteers on parole, and simulate appearing in front of a judge. Services focus on legal education, as well as the themes of gang awareness, substance abuse prevention, conflict resolution, and personal accountability.
Another critical part of Shortstop is what happens at home. Mandatory homework assignments include:
reading decision making and legal education materials
writing essays (example: how much their city pays to scrub out graffiti)
interviewing a working professional in the community (to encourage youth to explore future career paths and focus on positive life choices)
multiple writing and goal setting assignments
family communications exercises
In addition, an individualized restorative justice plan is created for each youth that requires financial restitution, victim apology letters, and community service hours. On average, each of our youth completes 21 hours of community service hours during the course of the program. If needed, youth and families receive case management services to link them to partner agencies that provide additional mental health, substance abuse, and other wraparound services.
Recidivism
Recidivism studies of juveniles who participated in the Orange County Bar Foundation's diversion programs (Shortstop, Programa Shortstop, and Stop Short of Addiction – English and Spanish versions) prove that the programs work to keep youth from further involvement in the criminal justice system. The basis for these studies is to determine if the youth we serve are referred to probation for a new law violation within a year of completing our programs.
Tracking approximately 961 youth for a year, results from a 2012-2014 Recidivism Study showed that youth who pass OCBF diversion programs are less likely to have a referral to probation in the year following their program completion than youth who fail the program. One-year referral rates for these program completers averaged 7%. By contrast, the one-year referral rates for the program failures averaged 25%.
These results continue to underscore OCBF's positive outcomes with the at-risk youth who successfully complete OCBF's early intervention programs.
WHO IS ELIGIBLE?QUICK FACTS
Shortstop targets Orange County youth, aged 12 to 18, who have come in contact with the criminal justice system. Parental participation is mandatory. The most common offenses of our clients are petty theft, burglary, truancy, weapons possession, and vandalism.
Last year, Shortstop served 299 youth and 366 family members:
– 92% were from low-income households (based on Federal HUD guidelines)
– 61% were male and 39% were female
– Race/ethnicity: Hispanic (72%), White (15%), Asian (9%), African American (3%) and Other (1%)
Shortstop Instructors
It is no secret that our youth struggle to associate potential consequences with their actions. Luckily, our team of highly qualified Shortstop instructors do an outstanding job of working with troubled/at-risk youth to turn their lives around. With 25 years as a Shortstop instructor, Kevin Stinson, Administrator at the California Court of Appeal, strongly emphasizes the "decision-making process" and has helped hundreds of youth turn "ignorance" into "knowledge." As a Shortstop instructor for the past 15 years, Detective Eddie Nunez, of the Santa Ana Police Department, has taken a "cultural" approach by educating and empowering countless Latino families. Lastly, Deputy Juvenile Correctional Officer Javier Orozco, with the Orange County Probation Department, has spent the last 10 years as a Shortstop instructor, effectively demonstrating the realities of life behind bars while also emphasizing the importance of "family values" and "future goal setting."
Why We Offer This Program
In our long history serving troubled youth, we have found that criminals do not just appear at age 18. Most often, criminal behavior begins in the teenage years, which makes it imperative that we reach out early to young offenders. In fact, studies show that unless youth are taught early the consequences of crime, their crimes will escalate.
This is certainly the case in Orange County, where 69% of juvenile probationers go on to break the law again. All youth are potentially at risk for delinquency, but our Latino youth are particularly vulnerable. While Latinos represent 42% of the county's youth, they account for 61% of the youth in substance abuse treatment, 85% of teen mothers, 63% of high school dropouts, 93% of youth gang members and 61% of youth probationers (Conditions of Children in Orange County, 2014).
The importance of early intervention programs is indisputable. To meet these needs, Shortstop partners with the Orange County Probation Department, local police departments, and school districts to reach at-risk youth early. In so doing, we are able to prevent youth delinquency from escalating into chronic criminal behavior.
By successfully completing Shortstop, youth are able to move forward in a positive direction, without serving jail time or having a criminal record. Shortstop has been nationally acclaimed for having a 90% success rate and has positioned OCBF as a leader, not only in Southern California, but throughout the nation in providing successful youth intervention programs that are replicable state and nationwide.
Get Started!
Referrals to the Shortstop program are most commonly from local law enforcement agencies, schools, and other community-based organizations.  If you would like additional information on how to make a referral and/or verify if the program is appropriate for you, contact Adam Sattar at OCBF at (714) 480-1925 ext. 114 or, in Spanish, Natalie Sanchez at 714 480-1925 ext.120.
Testimonials and Success Stories
"I haven't seen my son this happy in a long time. He is excelling in football, his confidence is growing, and our relationship is getting stronger every day. We recently registered him for the 8th grade, and he is taking Advanced Placement classes in English and art. We can't thank the Shortstop program enough for all it has done."
Shortstop parent, July 2015