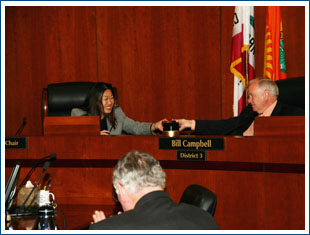 The O.C. Board of Supervisors approved by a 4-1 vote a redistricting plan this week, that was put forward by Board Chairman Bill Campbell.  The plan moves a portion of Fountain Valley north of Warner Avenue from the Second District to the First District, according to the Fountain Valley Patch.  The plan was opposed by the Fountain Valley City Council and by Supervisor John Moorlach, whose district got chopped up in the process.
The redistricting benefited the Republican Party of Orange County, as there will now be more Vietnamese voters in the First District and presumably they will vote for the incumbent, Supervisor Janet Nguyen, in 2012.
Nguyen was the only Supervisor who did not design a redistricting plan.  Instead she waited until the final round of redistricting, when she got behind the plan, 21c, that the Supervisors ended up adopting.
Denis Fitzgerald, spokesman for Anaheim Home Owners Maintaining our Environment (HOME), a volunteer watchdog organization, wound up in a shouting match with Nguyen, according to the Voice of OC.
Fitzgerald ripped the Supervisors for "not having a Latino on the board or in any top administrative position."
The plan splits four cities — Anaheim, Irvine, Fountain Valley and Buena Park — and has a population spread among districts of about four percent, according to the OC Weekly.
According to the Fountain Valley Patch, local activists in the League of United Latin American Citizens unsuccessfully proposed districts with Latino populations of more than 60 percent.  In the end the Latino activists were punked by Nguyen, who did was best for her, as usual.
Nguyen will have a tough time scoring any Latino votes, given her cheerleading for the odious Meg Whitman and Van Tran, in 2010.  And she could face a challenge from another Republican Vietnamese candidate, as many local Viet voters are still upset with her over the 2010 Black April fiasco, when she tried to take over that annual event in order to promote Whitman.  The plan backfired when the Westminster City Council intervened.  One of those Council Members may yet end up running against her in 2012.