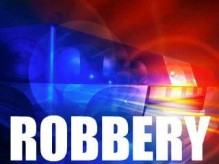 Santa Ana Police Department
Advisory: Detectives Asking For Assistance In Identifying Suspects In Smash & Grab Burglary
Summary: On Tuesday, 9-12-2017, at approximately 6:00pm, two male Hispanic adult suspects entered the Don Roberto Jewelry Store located at 407 East 1st Street. Suspect #1 was wearing a ski mask and was holding a large metal rod. Suspect #2 did not have a mask covering his face and acted as a lookout during the incident.
As they walked into the store Suspect #1 immediately without saying anything to the store employees walked up to a display case located in the front portion of the store and smashed the glass out. Suspect #1 then took several necklaces out of the case; the total number of items taken and their value are pending inventory confirmation. Both suspects were last seen running eastbound through the parking lot and are believed to be male Hispanics in their 20's.
Surveillance Video: https://www.youtube.com/watch?v=aBmp214SEQQ
Anyone with information is asked to contact Orange County Crime Stoppers at 1-855-TIP-OCCS.