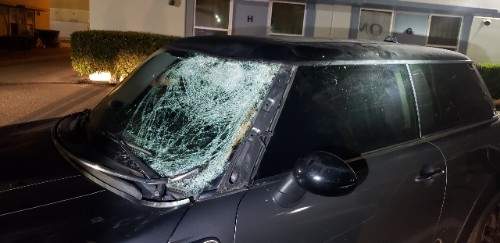 On Saturday, July 4th, 2020, at approximately 1:20 AM, the Santa Ana Police Department received several calls of a male down in the roadway in the 2400 block of South Fairview Street. Officers responded to the area and found an adult male down in the roadway suffering major injuries. Orange County Fire Authority personnel responded and began to treat the male before pronouncing him deceased at the scene.
The preliminary investigation revealed the male was in the roadway when he was struck by a vehicle driving south on Fairview Street. The vehicle involved fled from the scene prior to the arrival of officers. It is unknown if alcohol is a factor in this collision; the collision remains under investigation.
Investigators located the involved vehicle, which was parked a short distance from the collision scene. The vehicle led investigators to a residence where they identified the driver as Jonathan Padilla from Santa Ana. Padilla was arrested for felony hit and run, and he was booked at the Santa Ana Jail.
The Santa Ana Police Department's Collision Investigation Unit (CIU) is handling the investigation. Anyone possibly having information about this collision is asked to contact Investigator N. Quinones at (714) 245-8284.