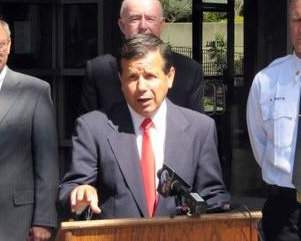 The Orange County Register finally endorsed a candidate for Mayor in Santa Ana.  We're not sure why they took so long or why they haven't endorsed in the City Council races.  The OC Register is based here in Santa Ana, although they recently sold their building and property in order to pay their bills.  As far as we know they intend to continue leasing their building from the new owner, developer Mike Harrah.
Here is their op-ed announcing their support for Pulido:
Editorial: Pulido for mayor in Santa Ana
Santa Ana, unfortunately, is not without its share of problems. But it is also a city, when comparing the problems of today to those of yesteryear, which has made great strides. The city now rests on the cusp of a potential renaissance, and it will need strong leadership to continue down the path of making Santa Ana the healthy and vibrant community it should be.
Mayor Miguel Pulido remembers the tough times. In an interview with the Register Editorial Board he recalled a story from his first electoral run, when a constituent invited him into his house so he could show the then-council candidate the bricks the homeowner lined his walls with to protect his family from stray bullets.
Now the 20-year incumbent of the mayor's office boasts an almost continually declining crime rate and substantial rises in property values.
"There is great opportunity in Santa Ana," Mr. Pulido told us. "With the economy on the rebound, it is time to start building dreams."
That is likely why the longtime mayor has the backing of members of the business community, and receives our endorsement for another term.
"There is something to be said about continuity and institutional knowledge," Lucy Dunn, president and CEO of the Orange County Business Council, told us. "The city has seen a 58 percent reduction in crime. We've seen a revitalization of downtown."
The revitalization of downtown is something certainly worthy of celebration. In fact, Forbes recently rated Santa Ana No. 20 in its "Coolest Cities" in America.
"Nobody used to want to come downtown," Mr. Pulido said. "We've reached a tipping point where people are safe in there investments and they're coming from everywhere."
But the city, and Mr. Pulido, also has to continue to strive for better. While the city's downtown may make Santa Ana one of America's "coolest cities," work remains to be done in the most impoverished and gang-infested neighborhoods.
That means mending the relationships of some residents who believe they must live in fear of their police. When residents view their anointed guardians as enforcers rather than servants, there is worrying breakdown in trust that will only compound the inability of law enforcement to tackle crime in troubled areas. Police Chief Carlos Rojas, to his credit, has done much to attempt to improve those relations, but work must continue to be done.
The mayor must also work tirelessly to continue to make it a better place for the city's residents, not just commuters. That includes showing a greater openness to improving and growing the city's housing stock.
Further, as the city's unemployment remains far higher than the county average, that includes making the city friendlier to job-creating development and enticing business through a reduction in the rules, regulations, permits and fees that have made the city one of the more difficult places in the county to do business.
As Santa Ana continues its marked rise, the city now more than ever will need strong leadership to keep it on the right path. Mayor Pulido certainly has much left to do.
Note: The Orange County Register is headquartered in Santa Ana, and the company conducts a great deal of business in the city.