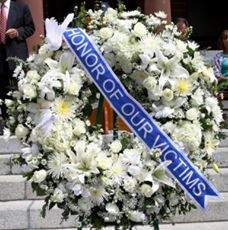 SANTA ANA, Calif. – The Orange County District Attorney's Office invites members of the community to the Victims' Rights March on April 8, 2019. The event, held as part of National Crime Victims' Rights Week, is an opportunity to honor victims and listen to survivors tell their stories of how they are moving forward and reshaping their lives – and how they continue to fight for victims' rights.
This year's theme is "Victims Fighting for Justice."
The program will begin with a reception at the Orange County District Attorney's Law Library. The group will march to the Old Orange County Courthouse, followed by a ceremony to honor the victims of crime and their loved ones and hear the stories of empowerment from survivors.
For more details, and to register for the event, please visit https://ocdavictimsrights.eventbrite.com.
All members of the public are invited. Any person who may protest the event will be directed to a designated public space where true expression is welcome.