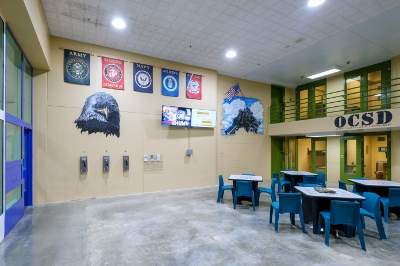 The Orange County Sheriff's Department will open its first-ever housing unit for select inmates verified as U.S. veterans, which is expected to support successful transition post-release.
Housing Unit for Military Veterans (HUMV) at the Theo Lacy Facility will include 32 beds, patriotic-themed murals on the walls, 55-inch televisions, game room-style tables, and flags representing each branch of the military hung overhead.

To participate in HUMV, inmates must meet specific security criteria and agree to actively participate in the programming.
Inmates assigned to the unit will get access to additional privileges including more out-of-cell time and programming tailored to veterans such as peer mentoring, post-release employment resources and workshops, financial planning classes, and substance abuse services, among other programs.
HUMV inmates will be moved in starting January 2, 2020.
"This is not just a new housing unit with different paint on the walls. This is a program model designed to go one step further in better assisting those who have served our country," said Sheriff Don Barnes. "The Sheriff's Department dedicates much time and resources to build diverse and effective programming for all inmates with the hope that when released from custody, individuals will not recidivate."
OCSD Correctional Programs has partnered with 10 agencies to provide programming for HUMV, including the Department of Veterans Affairs, the Tierney Center for Veteran Services, Working Wardrobes and the Orange County Probation Department, among others.