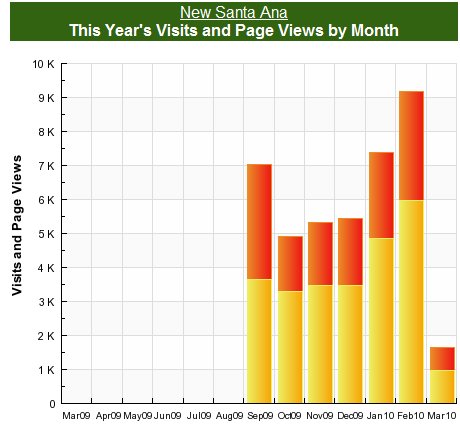 I started the New Santa Ana blog last year, on September 1.  Through December we averaged less than two hundred visits a day.  But the new year has seen a huge increase in our readership.  We are now averaging closer to 300 visits a day,and over six thousand visits a month, as you can see in the graphic above, according to Sitemeter.  Most blogs our size average only 140 visits a day, according to Google Analytics.
Blogs take time to develop an audience.  We are lucky that we have a very popular sister blog, the Orange Juice, that has helped us build our audience.  The Orange Juice is one of the top-rated political blogs in California.  It was also the very first political blog here in Orange County.  I started the Orange Juice in July, 2003 –  back then we got less than 100 visits a day.  Today the Orange Juice averages over 45,000 visitors a month!
We have added a lot of bloggers to our team here at the New Santa Ana blog, but there is always room for more.  If you work with a non-profit or community organization, we want you on our team!  That way you can post about the great things your non-profit or community organization is up to, here in Santa Ana.  Click here to contact me if you are interested.
And now for a few more statistics:
We have had over 72,000 page views since we started up in September of last year.
15,531 unique visitors have read our New Santa Ana blog.
About 9,000 visitors have come back more than once to read our blog.
Over 52% of our readers have been referred to us from other websites or blogs.
If you think your Santa Ana business might benefit from advertising on this blog, please click here to contact me.
Thanks to everyone who has visited and supported our blog. We truly appreciate your support!