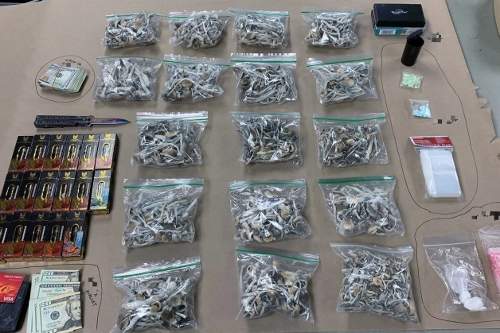 During the ongoing investigation of a robbery and aggravated assault incident that happened at the 600 block of Hamilton Street in late February, Gang Investigators identified three suspects.
Two were arrested within days of the incident but at that time the third suspect could not be located. Last week, during a probation search of the third suspect's residence, a 9mm semi-automatic handgun with a prohibited 33-round magazine was recovered and seized.
Gang Investigators received information that the outstanding suspect was staying in the Santa Ana area. The suspect and another man were located and were found to be in possession of over 550 grams of psilocybin (mushrooms), suspected fentanyl powder, suspected pressed fentanyl pills, Zanax bars, cannabis edibles, sales packaging material, a digital gram scale, and approximately $2,000 in cash.
The two suspects were then arrested. The third outstanding suspect was booked on charges of assault with a deadly weapon, robbery, possession of firearm by a convicted felon, illegal possession of a prohibited ammunition magazine and possession for sale of illegal drugs. The other man was booked on a charge of possession for sale of illegal drugs.