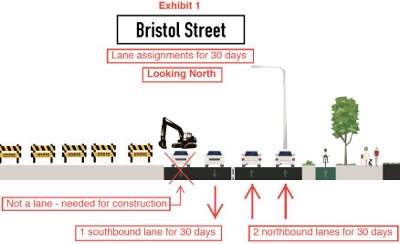 City of Santa Ana
Community: Bristol Street Lane Reductions between 17th and Washington to start May 15th
Starting Tuesday, May 15, there will be major improvements made on N. Bristol Street, including a new storm drain, water mains, sewer mains, medians, hardscape, sidewalks, curbs, paving, striping, and signage. To accommodate the storm drain construction, both travel directions will be shifted to the east side of Bristol:
Southbound Bristol will be limited to one lane and Northbound Bristol will be limited to two lanes for approximately 30 days. See the "Exhibit 1" image for details on traffic flow. Changeable message signs (CMS) will also inform motorists of the changed conditions.
The City will send out updates once two lanes in each direction are available again. See the "Exhibit 2" image for details.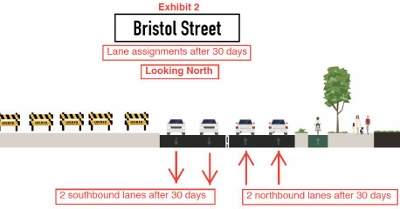 The City anticipates this project being completed in Fall 2018. If you have any questions or concerns, please contact Tyrone Chesanek at (714) 615-0887. In the meantime, please consider sharing this news with your nearby family, friends and neighbors so everyone can be aware of the changes prior to construction starting. Thank you for your patience as we improve the City's infrastructure!