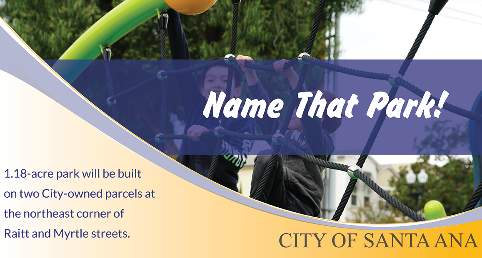 The City of Santa Ana is looking for your suggestions to help name the latest addition to our Parks system. The new, 1.18-acre park will be built on two City-owned parcels at the northeast corner of Raitt and Myrtle streets and will feature a skate park, play equipment, exercise area, drought-tolerant landscaping, drinking water fountains, lighting, a public restroom, and other amenities. Please complete the questions below; thank you for your suggestion!
Criteria for naming the park:
A name which serves to identify the location of the subject by reference to distinct geographic, environmental or development features in the immediate area.
A name which references the history of the subject site or its immediate area.
A name which identifies a person or family which made an extraordinary donation of land or funds to promote the construction or improvement of the subject public facility.
A name which recognizes a person or family who made a distinct, significant contribution to the well-being of the city, including past mayors, council members, board or commission members, officers or employees of the city, but not anyone who currently holds any such position.
Applications will be accepted through January 3, 2022. Please visit the following link, to complete the survey: https://www.santa-ana.org/parks/name-park.
For questions or additional information, please call 714-571-4258.
Ayúdenos a nombrar el nuevo parque
Hãy Giúp Chúng Tôi Đặt Tên cho Công Viên Mới