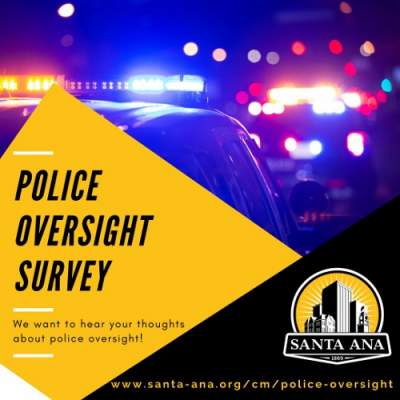 The City of Santa Ana is hosting a community forum on Wednesday, August 4 from 7 to 8:30 p.m. to engage residents on police oversight. The community forum will be held virtually on Zoom.
The virtual community forum will cover the topic of police oversight, including the different models and frameworks that make up police oversight boards and commissions. The forum will also include a moderated panel of practitioners and experts in police oversight to share their experiences with police oversight.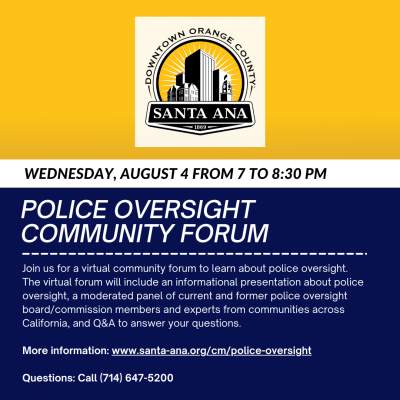 Below is the line-up of the panelists:
John Alden (Executive Director, Oakland Community Police Review Agency)
Tiffany Bailey (Munger, Tolles & Olson Fellow, ACLU)
Michael Gennaco (Independent Auditor, Anaheim Police Review Board)
George Lippman (former Member, Berkeley Police Review Commission)
Eileen Teichert (Chair, Riverside Community Police Review Commission)
Residents can access the Zoom webinar using this link https://us02web.zoom.us/j/83498377560 or by calling (669) 900-9128 and entering Meeting ID: 834 9837 7560.
Take the Community Feedback Survey
The City of Santa Ana wants to find out what the community thinks is the best approach for police oversight and how the City of Santa Ana should go about implementing police oversight. The City of Santa Ana is particularly interested in hearing from the community to find out which model and/or framework of police oversight best meets Santa Ana's needs, how a police oversight board/commission should be structured, and what powers/authority the police oversight board/commission should have.
For more information and to take the survey, visit the City's website: https://www.santa-ana.org/cm/police-oversight. If you have questions, call (714) 647-5234.