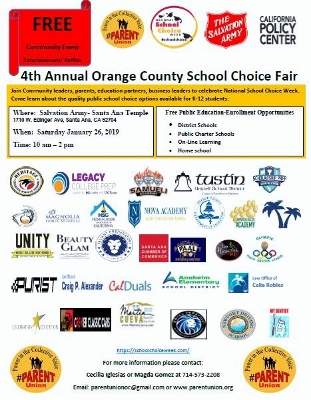 The 4th Annual Orange County School Choice Fair is coming to the Salvation Army in Santa Ana on Jan. 26, 2019, at 10 a.m. This is a free event that is open to all. This will be one of California's most prominent National School Choice Week events.
This event is a great opportunity for parents, students and educators to explore the quality public school educational opportunities available in Orange County. The event will include special guest speakers, student testimonials, and more.
This is a great opportunity to find out more about:
District Schools
Charter Schools
Home Schools
and Online Learning Opportunities
The event will take place at 1710 W. Edinger, in Santa Ana.