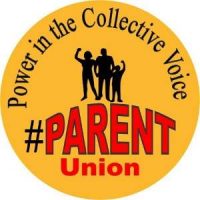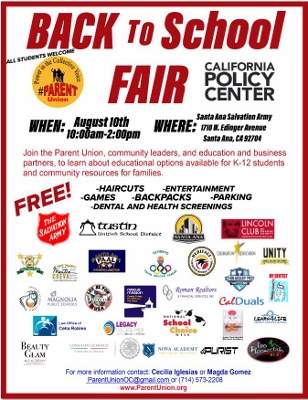 SANTA ANA, Calif. – In preparation for the school year, the Orange County Parent Union has gathered local school districts, public charter schools, and business partners for its Third Annual Back to School Fair that will take place on August 10 from 10 a.m. – 2 p.m. at Santa Ana's Salvation Army.
The fair is open to the public and our participants will be providing backpacks, haircuts, entertainment, games, dental and health screenings, and free food. The goal: to help families understand the public school options for their children.
"School choice is all about giving parents access to the best K-12 education options for their children," said Cecilia "Ceci" Iglesias, president of the Parent Union. "Our annual fair is a forum for local school districts and public charter schools to talk with students and parents about those options."
Both district schools and charter schools are free public schools that provide education options to Orange County families.
A project of the California Policy Center, the Parent Union is a group of parents and community members working together to ensure that every child has access to a quality public education. We believe that when parents choose the best education for their children, students and communities win.