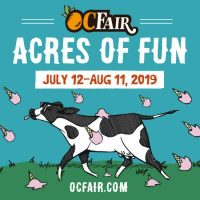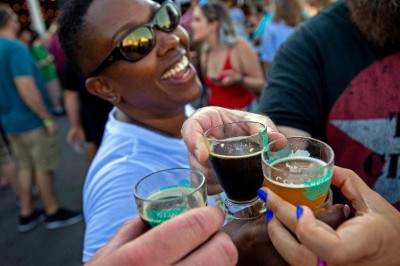 COSTA MESA (July 9, 2019) – The 129th annual OC Fair opens this Friday with all of the crazy food, great rides summer concerts and one amazing craft beer festival.
This year OC Brew Hee Haw is moving into The Hangar and the 6th annual craft beer roundup is set to showcase more than 80 regional favorite and rarely seen craft beers on July 12 and 13.
There will be live entertainment from Orange County Oingo Boingo Tribute band Dead Man's Party during Friday's session and Los Angeles '80s tribute act Fast Times during both Saturday sessions.
The new location at The Hangar offers room for more breweries than ever before, with the brewery lineup including Artifex Brewery, Chapman Crafted Beer, Four Sons Brewing, Burgeon Beer Co., Beachwood Brewing, Pizza Port Brewing Co., Stereo Brewing, Bottle Logic Brewing, Unsung Brewing Co., and many more.
Tastings will be held in three sessions from 8-11 p.m. on Friday; 1:30-4:30 p.m. and 7:30-10:30 p.m. on Saturday. VIP guests are invited one hour early for additional tasting time.
Tickets include free OC Fair admission, so attendees can come for the beer and stay for the Fair! OC Brew Hee Haw's location at The Hangar offers attendees easy access to the OC Fair's vendors and attractions. Guests can have Acres of Fun with the OC Fair's annual pig races, carnival games, extensive Fair food options and classic rides.
Tickets to the 6th Annual OC Brew Hee Haw at the OC Fair are available for purchase at BrewHeeHaw.com. Ticket prices are $55 each and, if available, day-of prices are $65 each. VIP tickets are available for $65 each and, if available, $75 day-of ticket.
Getting to the OC Fair
Traffic advisory: Plan to arrive early – especially for OC Fair ticketed events, including concerts. Ride-hailing services, public transportation, carpooling, OC Fair Express bus (Saturday and Sunday) and free offsite parking at Experian (Saturday and Sunday) are highly recommended.
If you do drive, check the latest traffic and 405 Project updates on Google Maps and Waze. Full construction updates are available on the OCTA website and OCTA's interactive map.The 2019 OC Fair runs July 12 through Aug. 11 and offers 23 days and nights of entertainment, food, rides, shopping, exhibits and more. Hours are noon to midnight Wednesdays through Fridays, and 11 a.m. to midnight Saturdays and Sundays. For more information, visit ocfair.com.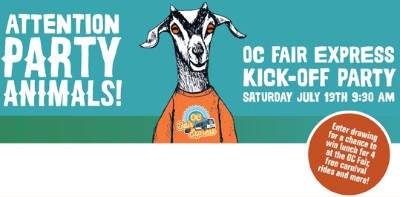 OC Fair Express Returns July 13!
It's back! Enjoy non-stop travel to the OC Fair from nine convenient Orange County locations Saturdays and Sundays through Aug. 11 from approximately 10 a.m. to midnight. Only $2 each way, and you get a coupon for $4 OC Fair admission. Save $10—a great value!
Free Connections
Transfer free to the OC Fair Express with your valid Metrolink or Amtrak Pacific Surfliner ticket at the Anaheim Canyon, Anaheim ARTIC, Santa Ana, Irvine, or Laguna Niguel/Mission Viejo Metrolink stations.
Kick off the OC Fair Express this Saturday in Anaheim
Let's get this party started! There'll be lots to do, plenty of freebies, plus the first 100 people in attendance ride free to the OC Fair! Enter to win a prize package that includes an OC Fair lunch for 4, carnival rides, signed Ducks memorabilia, and more!
Listen to music
Enjoy refreshments
Grab some freebies
Catch a free ride
Snap a Photo with Olivia the orange and Scoop the ice cream cone.
Meet Anaheim Ducks Wild Wing and Street Team!