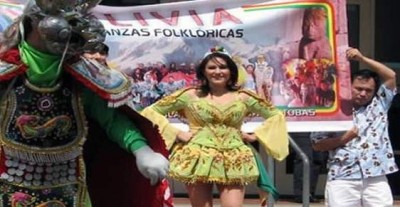 Enjoy the Target Free First Sunday: May Day Family Festival today, May 4, 2014, from 10:00 am until 4:00 pm at the Bowers Museum. Sponsored by The Nicholas Endowment.
Featuring Margaret and Cleo Key in the Bowers Courtyard from 11 am – 3:30 pm.
Free admission to special exhibition: Soulful Creatures: Animal Mummies In Ancient Egypt, is limited to the first 1,500 people on a first come, first served basis. Each recipient must be present. Tickets can be picked up in the North Wing.
Free admission is also included to Bowers Museum permanent exhibitions, Kidseum and limited engagement exhibitions including: Beethoven: The Late Great; Sacred Realms: Temple Murals by Shashi Dhoj Tulachand; Spirits and Headhunters: Art of the Pacific Islands; California Legacies: Missions and Ranchos; Vision of the Shaman, Song of the Priest; California: The Golden Years; Ancient Arts of China, and Framed: Step into Art at Kidseum.
Free admission to Bowers Kidseum included. Kidseum hours: 10 AM – 4 PM.
For more information, contact 714.567.3600.
The Bowers Museum is located at 2002 N. Main Street in Santa Ana.
Kidseum
is located on the corner of 18th and Main Streets – south of the main Bowers Museum. Parking is available in a well-lighted conveniently located area, adjacent to the Museum. Wheelchair accessible.
Parking
Parking Lots are available directly north and south of the museum for a $6 fee. Nearby metered and timed street parking is also available. Bowers Museum Members have the exclusive opportunity to purchase an Annual Parking Pass for $20.
Public Transportation
The bus line servicing the Bowers Museum and Kidseum is the OCTA bus number 53. Metrolink and Amtrak trains stop at the Anaheim Station (3.5 miles from the museum), and the Santa Ana Station (1.7 miles from the museum).