Over 100 local UnitedHealthcare employees participated in the Steppin' Up for Kids (SUFK) walk in Cypress this past week. Hosted by the UnitedHealthcare Children's Foundation (UHCCF), SUFK is a national initiative that encourages people to engage in healthier lifestyles while raising funds for medical grants for kids.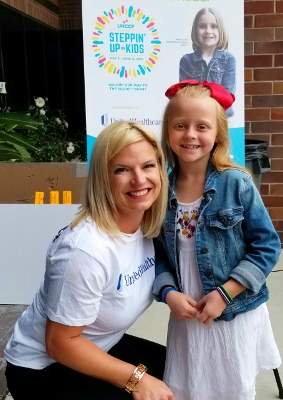 Tessa Adams, a 7-year-old girl from Santa Ana, is a UnitedHealthcare Children's Foundation grant recipient. She suffers from Type 1 Diabetes and severe nut allergies. Her grant will be used for her insulin pump, medical supplies, doctor visits, allergy shots and prescriptions.Tessa was awarded the grant at the UnitedHealthcare's Steppin' Up For Kids Walk in Cypress.
One of five walks taking place nationally, the employees in Cypress raised over $10,000 to be donated to the Foundation, which provides grants to help families with children that have medical needs not covered or not fully covered by their commercial health insurance plan. Seven year old Tessa Adams, whose family has received a Foundation grant, was at the event in Cypress to cheer on the walkers and assist with the check presentation.
"Since 2017, Steppin' Up for Kids has raised nearly $120,000 and participants have taken more than 4 million steps toward funding medical grants for children across the United States," said Rob Falkenberg, CEO, UnitedHealthcare of California. "I am proud that our employees in California are part of this amazing movement."
UHCCF is a 501(c)(3) charitable organization that was founded in 1999. Since 2007, UHCCF has awarded 18,000 grants valued at $41 million to children and their families across the United States. UHCCF's funding is provided by contributions from individuals, corporations and UnitedHealth Group employees. Families can receive up to $5,000 annually per child ($10,000 lifetime maximum per child), and do not need to have insurance through UnitedHealthcare to be eligible.