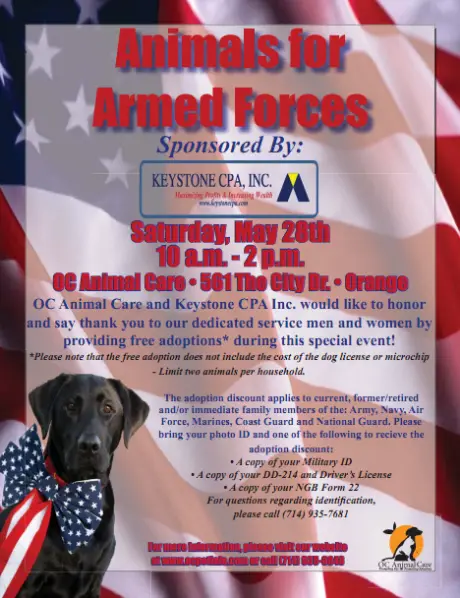 Orange County Animal Care and Keystone CPA, Inc., would like to honor and say thank you to our dedicated men and women in the U.S. Armed Services by providing them with free adoptions during the Animals for Armed Forces event on May 28, from 10 am to 2 pm, at O.C. Animal Care, located at 561 The City Drive, in Orange.
The free adoption does not include the cost of a pet license or microchip, and there is a limit of one animal per household.
This adoption discount applies to current, former and retired members of the U.S. Army, Navy, Air Force, Marines, Coast Guard and National Guard.
Please bring your photo I.D. and one of the following to receive your discount:
A copy of your military I.D.
A copy of your DD-214 and Driver's License
A copy of your NGB Form 22
For questions regarding identification please call (714) 935-7681.