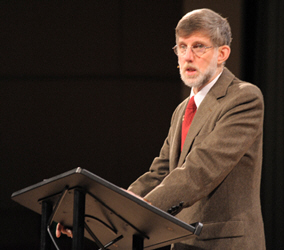 An Afternoon with Marvin Olasky
An opportunity to interact with the Editor in Chief of World Magazine. Marvin Olasky is spending a day at Trinity Law School and reserved 3pm-5pm on Friday, April 23rd to address the Trinity Law School community and answer their questions on a wide variety of topics.
Dr. Olasky is most known as the Editor in Chief of WORLD magazine and currently serves as Provost of The King's College in New York City. He also chaired an advisory committee on religion and public policy for George W. Bush when he was Governor of Texas. He is the author of more than 20 books. His books include The Religions Next Door, Compassionate Conservatism, The American Leadership Tradition, Tragedy of American Compassion, and The Prodigal Press: The Anti-Christian Bias of American News Media. He has published more than 800 articles on journalism, history, the fight against poverty, religion, sports and other matters. His most recent book coming out in March, Unmerited Mercy.
Time: 3pm-5pm
Location: 2200 N. Grand Ave, Santa Ana, CA 92705 Continue reading→