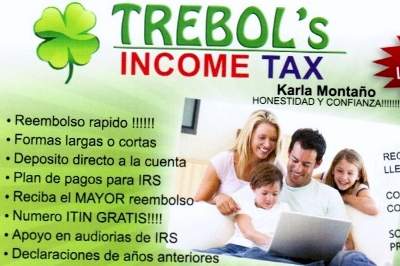 Karla Montano, 31, the owner of Trebols Income Tax, a Santa Ana tax prep business, accused of falsely claiming and pocketing about $700,000 worth of returns, admitted to lying to her clients and defrauding the Internal Revenue Service, according to the O.C. Register.
Between 2014 and 2016, the IRS says, Montano would prepare two sets of returns for some of her customers. The copy given to her customers was legitimate, but on the return she filed with the IRS she would "fraudulently claim deductions (like unreimbursed employee business expenses and charitable contributions), credits (like education credits and child tax credits), and exemptions (like dependents), that Montano knew her taxpayer-clients never approved of or qualified for," according to the IRS.
Montano was able to cash in on the fraudulent returns through the use of the payment management service Refund Advantage. "Specifically, Montano would direct the IRS to electronically deposit her taxpayer-clients' inflated refunds into Refund Advantage bank accounts, and Montano would subsequently direct the transfer of payments from those accounts into her own personal bank accounts," according to the O.C. Weekly.
Montano has agreed to enter the guilty plea during a court appearance scheduled for Monday, Aug. 19. She faces a maximum penalty of 15 years in prison followed by one year on supervised release, but federal officials will recommend a reduced sentence, according to the terms of her deal with prosecutors. She must also pay more than $430,000 in restitution and will be barred from performing tax-related services, according to the O.C. Register.