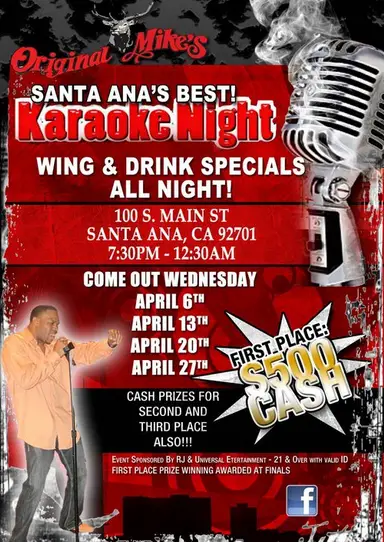 Time: Wednesday night, April 6 at 8:00pm – April 27 at 12:30am
Location: Original Mikes, at 100 S. Main St., in Santa Ana
At OG Mike's we are doing Karaoke IDOL..who will be 1st place winner at OG MIke's? Winner takes all $500.00! $4 Hen and half off on Wings!!! Get your sing on and dance on with KJ Julian, Your host Harley (RJ) and the rest of the Universal Entertainment!! We are looking for all of you. Santa Ana (O.C.), I.E.,SD, LB, LA where will u be this Wed??? Karoake, Dancing, Drink, Food and Lots of Fun!! $4 Hen and half off on Wings!!, NO COVER CHARGE!!! Unbelievable!!