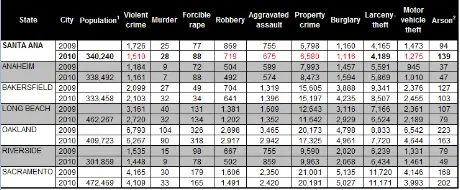 Violent crime fell in Santa Ana last year, according to the new FBI Uniform Crime Report.  In fact the new crime figures show that robberies, aggravated assaults, property crimes, burglaries and motor vehicle thefts all went down in Santa Ana last year.
Violent crimes rates were higher last year in several California cities with comparable populations, including Bakersfield, Long Beach, Oakland and Sacramento, as you can see in the chart above.
Forensic science colleges are an option for people who want to learn the skills they would need to help the police to solve crimes. People who search for answers and want to solve problems are good candidates to start forensics careers and help their communities.
Kudos to the SAPD and Police Chief/Interim City Manager Paul Walters for reducing crime while dealing with budget cuts and the economic crisis.
Incidentally, the SAPD is holding their annual Employee Recognition and Awards Ceremony tomorrow night, on May 25, from 6:30 pm to 9 pm, at the Doubletree Hotel, located at 201 East MacArthur Bl., in Santa Ana.  Kudos to all the men and women who work hard to keep us safe here in Santa Ana!