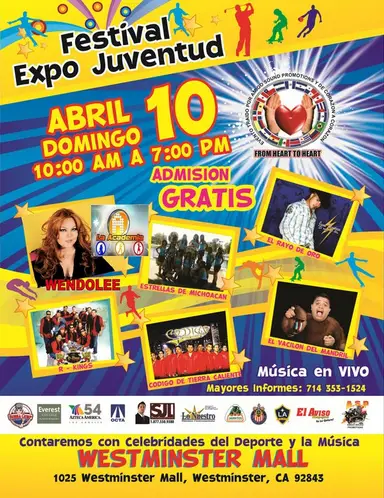 Check out the free Corazon de Corazon Youth Expo today at the Westminster Mall, at 1025 Westminster Mall, in Westminster, from 10 am to 7 pm.  The event includes live music, soccer stars, and more!
Wendolee
Jesus Mendoza "El Rey de Oro"
R Kings
Codigo de Tierra Caliente
Estrellas de Michoacan
Anselma Munoz
Chivas, USA
L.A. Galaxy
Click here to RSVP on Facebook.
EVENTO GRATUITO Y ESTACIONAMIENTO TAMBIEN
APOYA A LOS JOVENES EN SUS PROGRAMAS, BECAS, AYUDA LEGAL, ENTRETENIMIENTO, MUSICA EN VIVO CON WENDOLEE, JESUS MENDOZA "EL RAYO DE ORO" , R KINGS, CODIGO DE TIERRA CALIENTE, ESTRELLAS DE MICHOACAN, ANSELMA MUÑOZ, CON LA PRESENCIA DE CHIVAS USA, L.A. GALAXY, Y MUCHAS CELEBRIDADES MAS!! ORGANIZACIONES EN BENEFICIO DE LA JUVENTUD!
ESTE EVENTO ES UN EVENTO SOCIAL TRAIDO POR AMIGO SOUND PROMOTIONS Y LA FUNDACION DE CORAZON A CORAZON
WESTMINISTER MALL/BOLSA AND GOLDENWEST & 405 FREEWAY CONTACTA A LA FUNDACION DE CORAZON A CORAZON (714 )353-1524