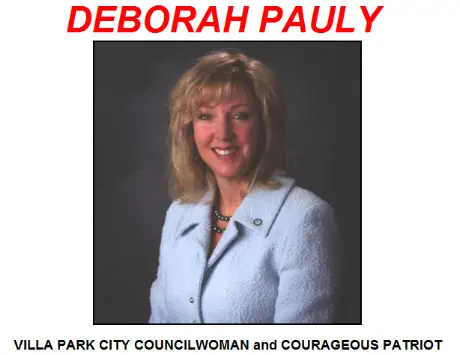 Time: Wednesday, May 25 · 6:30pm – 9:30pm
Location: Women's Club
9501 Chapman Avenue at Gilbert
Garden Grove, California
Facebook Event Page
Villa Park City Councilmember Deborah Pauly recently threatened violence against Muslims at a Rally outside a fundraiser. Let's attend the next meeting of the CCIR, where she is going to speak and let her know that she doesn't speak for the people of Villa Park, or Orange County (and that her comments help empower the same extremists that threaten all of us). For a short video of the event click here.
BRING SIGNS, FRIENDS, NOISE MAKERS, AND SHARE THE INFO . PEACEFUL RALLY ! OBEY ALL TRAFFIC LAWS WHEN PROTESTING .
CCIR – The California Coalition for Immigration Reform (CCIR) is a Huntington Beach, California-based political advocacy group devoted to MEXICAN migration reduction. According to the organization's website, its objectives are to "promote and expand citizen and legal resident awareness by a practical, effective communication network" and to "mobilize citizens and legal residents to support elected representatives and legislation" who favor migration reduction.
The CCIR was founded in 1994 by Barbara Coe who has served as chairwoman of the organization ever since. She is a former police clerk who was reportedly fired for using department camera to photograph what she thought were illegal aliens. Coe is also a member of the Council of Conservative Citizens, an organization which condemns racial integration, immigration by non-Europeans, homosexuality, and interracial marriage.
The CCIR was a co-sponsor of California Proposition 187 (1994), which would have denied public services such as education to illegal immigrants.  The proposition was approved by the electorate but overturned by a federal court.
CCIR has sponsored billboards along the Arizona-California border that read, "Welcome to California, the Illegal Immigration State. Don't Let This Happen to Your State."
The group was investigated by the FBI in 1996 and 1998 because it had placed signs near polling places stating that non-citizens may not vote.
In 2006, a letter connected to Republican congressional nominee Tan D. Nguyen which warned immigrants that they may be deported if they vote was issued on what appeared to be CCIR letterhead.  However, Coe said the letterhead was fraudulent.
Los Angeles Times reporter Per Hong accused Coe of telling him to "Go home, chink" in an angry letter.
In April 2010, Coe advised her supporters to "lock and load" and prepare for "the time of reckoning".
In a July 29, 2010 email, Coe questioned whether Muslim Americans could become assimilated into U.S. society, "However, since MUSLIMS subscribe to the teachings of the Koran – which is to torture/kill all non-believers – how do you suggest we 'Americanize' those who want us beheaded?" Coe further stated, ""My efforts will be to share the TRUTH about these cold-blooded terrorists, urge others to strongly OPPOSE the building of mosques [terrorist training camps], and urge SUPPORT of all efforts to get them DEPORTED to their country of origin where they can commit their barbaric Satanic acts at will."
The CCIR is listed as a hate group by the Southern Poverty Law Center, which quotes Coe as referring to Mexican immigrants as "savages."