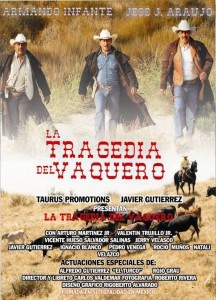 JESS ARAUJO MOVIE DEBUT "LA TRAGEDIA DEL VAQUERO"
Jess Araujo, prominent Santa Ana, Orange County attorney, educator and syndicated journalist, will make his feature film debut in the Spanish language film "La Tragedia Del Vaquero" (The Cowboy's Tragedy).
The movie was filmed in the rustic country town of Zapotlanejo in Jalisco, Mexico earlier this year. The star of the film is Armando Infante, son of the undisputed Super Idol of Mexico, Pedro Infante. The film also features roles by several other major Mexican actors including Hugo Stiglitz, Valentín Trujillo Jr., Alredo "El Turco" Gutierrez, Rojo Grau, Arturo Martinez Jr. and Rocio Muñoz.
Film star-singer Armando Infante will perform with Mariachis for 45 minutes prior to the showing of the movie starting at 5 p.m. on Saturday September 12, 2009 at the Yost Theatre on Fourth Street, in Santa Ana. Continue reading→