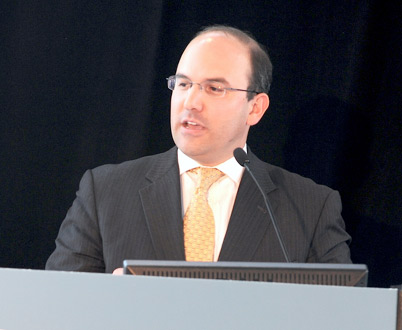 On May 23, from 5:30 to 8:30 pm, the Mater Dei High School Alumni Association, in conjunction with the Alumni Circle, will launch a speaker series to share the experiences of highly accomplished alumni, offer a networking opportunity, and raise money for the Alumni Heritage Fund.
The kickoff speaker of the series is Juan C. Zarate, senior national security analyst for CBS News, senior adviser at the Center for Strategic and International Studies (CSIS), and a national security consultant. Zarate, who graduated from Mater Dei in 1989, served as the deputy assistant to President Bush and Deputy National Security Advisor for Combating Terrorism (2005 – 2009), and was responsible for developing and implementing the U.S. Government's counterterrorism strategy and policies related to transnational security threats.
Zarate will present on the topic, "Crises and Opportunities: One Monarch's Journey through the World of National Security After 9/11," timely to recent national events sparking public concern and great discussion on national security.
"We are honored to have Juan Zarate return to his alma mater, Mater Dei, as the first presenter in our new alumni speaker series," says Patrick Murphy, president of Mater Dei High School. "Juan has made great contributions to the safety and security of our nation, and is one of the most respected experts on the topic of national security, which concerns us all. Juan Zarate represents the outstanding achievements of countless Mater Dei graduates who have gone on to exceptional careers."
The presentation, which has already garnered interest, is open to the public. Zarate's presentation will take place at 6:30 p.m. in Mater Dei's LeVecke Center located at 1202 W. Edinger Avenue, Santa Ana. Tickets are $20 for adults, and $10 for high school students and children.
The Alumni Circle will host a networking mixer at 5:30 p.m. prior to Zarate's presentation to facilitate an opportunity for individuals 21 years old and over to develop business relationships.
All proceeds from the event will benefit the Alumni Heritage Fund (AHF). The AHF provides need-based financial aid to Mater Dei students who are children and grandchildren of alumni. Tickets and information are available on the school's website at www.materdei.org