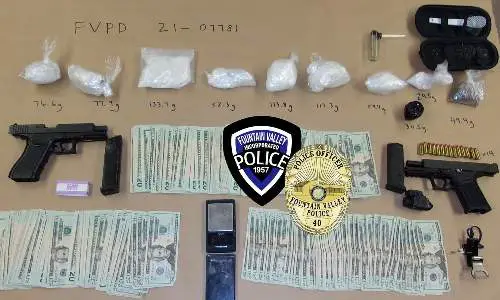 On 3/15/21 at approximately 11:15 pm, a Fountain Valley police officer conducted a traffic stop in the City of Fountain Valley near the area of Harbor Boulevard and Heil Avenue.
During the traffic stop, the Officer learned one of the vehicle's occupants was on active post release community supervision (PRCS/Probation).
During a subsequent search of the vehicle, the officer located the following items:
(2) Loaded Glock handguns
Approximately 1.5 pounds of methamphetamine
Approximately 1.5 ounces of heroin
A large amount of cash
A digital scale
Narcotics paraphernalia
All three occupants of the vehicle were arrested for various charges including: felon in possession of a firearm, felon in possession of ammunition, possession of narcotics for sales, outstanding warrants, a probation hold, and other charges.