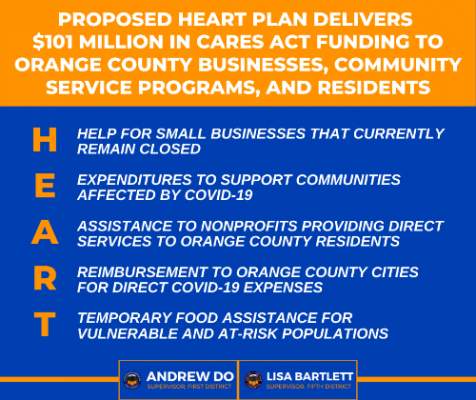 On Friday, Orange County Board of Supervisors Vice Chairman Andrew Do, First District, and Supervisor Lisa Bartlett, Fifth District, released their $101 million HEART Plan to deliver a much-needed boost to Orange County small businesses, community service programs, and residents. The Plan supports Fourth District Supervisor Doug Chaffee's suggestion at the May 12th Special Board meeting, that the Board consider a plan which allows for the equal distribution of funds amongst the five supervisorial districts.
 
The HEART Plan is consistent with the CARES Act and federal guidance. It provides a comprehensive and responsible approach to meet the most urgent needs facing Orange County. 
Help for small businesses that currently remain closed
Expenditures to support communities affected by COVID-19
Assistance to nonprofits providing direct services to Orange County residents
Reimbursement to Orange County cities for direct COVID-19 expenses
Temporary food assistance for vulnerable and at-risk populations
The primary purpose of CARES Act funding is to meet the core public health and safety challenges arising from the COVID-19 pandemic. Vice Chairman Do and Supervisor Bartlett strongly support the County Executive Officer's analysis that $453 million of the $554 million of CARES Act funding allocated to Orange County is needed for vital COVID-19 response functions.
 
Vice Chairman Do and Supervisor Bartlett are proposing the HEART Plan to dedicate the remaining $101 million of CARES Act funds toward economic support services. The HEART Plan takes into account County obligations to provide an effective public health and safety response, the potential for additional funding coming to municipalities under the HEROES Act, and the State's May Budget Revise. 

The HEART Plan will be considered by the Board of Supervisors on Tuesday, May 19th.