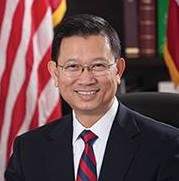 Supervisor Andrew Do Hosts a Free Scam Prevention Seminar
Senior Scam Stopper will Help Stop Crime against Orange County's Most Vulnerable Population
(Westminster, CA) – Orange County Supervisor Andrew Do and the Contractors State License Board are helping Orange County residents fight back against scam artists and identity theft with a free scam prevention seminar.
On September 8th, the public is invited to join a free Senior Scam Stopper Seminar in Westminster.
"When it comes to identity theft, "Our first reaction is usually, "I should have known better. How could I fall for this?'" said Orange County Supervisor Andrew Do, who previously worked as an Orange County deputy district attorney. "The reality is that these scam artists are professionals. They know how to exploit our habits and human behavior."
"Scam artists prey on our good intentions," explained Supervisor Andrew Do. "This event is designed to help residents stay one step ahead of the scam artists."
In April, Supervisor Andrew Do co-hosted a similar scam prevention seminar with the Contractors State License Board. He said that the events are intended to help seniors, who are the most frequently targeted group. With new scams being developed every day, the free event will help residents identify the newest tricks of thieves.
September 8: Free Scam Prevention Seminar Details
Orange County Supervisor Andrew Do and the California Department of Consumer Affairs Contractors License Board have teamed up to keep residents one step ahead of scammers.
Join us at this free public scam prevention seminar to learn the skills to spot a scam, protect your credit, and fight back against identity thieves.
Date: Thursday September 8th
Time: 10am to 12pm
Where: Westminster Chamber of Commerce (Miriam Warne Room)
Location: 14491 Beach Blvd, Westminster, CA 92683
RSVP is not required to attend but is appreciated. To RSVP call Supervisor Andrew Do's office at 714-834-3110, or email Andrew.do@ocgov.com.
You can also RSVP via the event Facebook page.