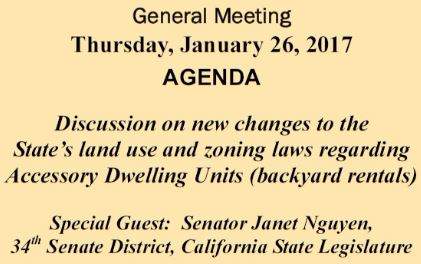 Notice regarding Communication Linkage Forum (ComLink)
General Meeting – Thursday, January 26, 2017
Community Room @ Santa Ana Police Station, at 60 Civic Center Plaza, in Santa Ana
State Senator Janet Nguyen will be at tonight's ComLink meeting to discuss new changes to the State's land use and zoning laws regarding Accessory Dwelling Units (aka Granny Flats).
The City of Santa Ana is in the process of updating the existing accessory dwelling unit ordinance to comply with the new state law (Assembly Bill 2299 and Senate Bill 1069). For neighborhood associations interested in receiving more information on the accessory dwelling unit ordinance at your meetings or interested in providing feedback and working with the City's Planning Division on drafting the ordinance, please email Associate Planner Ricardo Soto or call (714) 667-2793 to schedule a community input session at your next neighborhood association meeting between January 23 and March 22, 2017.
Refer to this flyer for more information.