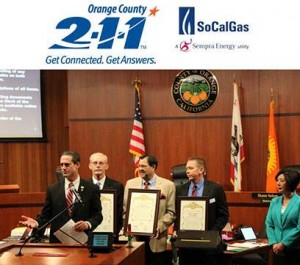 Orange County Works with SoCalGas and 2-1-1 to Launch Internet Site to Help Veterans and their Families Gain Greater Access to Services
By: OC Supervisor Todd Spitzer
Southern California Gas Co. (SoCalGas) has supplied a $30,000 grant to help 2-1-1 Orange County develop and launch an internet site that will help Orange County veterans and their families gain greater access to services, it was announced this week at the Orange County Supervisors meeting.
The new portal is connected to 2-1-1 Orange County's extensive database of regional services that include housing, legal assistance, counseling, child care and other services. The portal will serve as a central location for the most current information and relevant services for veterans and their families. 2-1-1 Orange County is also working with the Orange County Veterans and Military Families Collaborative to make sure that area agencies are trained to work specifically with service men and women as they transition back from deployment.
There are about 6,500 veterans returning to Orange County each year with a current total population of 133,000. A recent study funded by the Orange County Community Foundation and conducted by the University of Southern California's Center for Innovation and Research on Veterans and Military Families found that Orange County veterans face significant barriers to finding services and support. The study also highlighted the fact that 44 percent of veterans said they did not know where to find help and that many veterans leave the service without a job, housing and/or services for physical and psychological needs.
"It is troubling to realize that many of the homeless are also veterans," said Todd Spitzer, chairman of the Orange County Board of Supervisors. "Expanding the 2-1-1 services to veterans and their families is a big step in the right direction in Orange County's effort to help end homelessness."
"After military life, skilled and resourceful veterans find themselves without health benefits, housing support, and sometimes without a job," said Karen Williams, president and CEO of 2-1-1 Orange County. "There are services and employment opportunities for veterans here at home; however, when re-entering back into society, identifying and securing these resources can be challenging. 2-1-1 Orange County can help provide veterans and their families with needed information to get connected to employment programs, food and utility payment assistance, as well as other resources they may need. Once the new portal is launched, this will allow veterans and their families to navigate the rich resource landscape in Orange County with confidence and anonymity and place necessary information at their fingertips."
"Most people know a veteran who can be helped by services, so we appreciate SoCalGas' help with this new way of providing this information to the public," she added.
"We are proud to help support this access to important information for our Orange County veterans," added Bret Lane, chief operating office of SoCalGas and also a veteran. "For years, SoCalGas has been a proud supporter of our veteran community. We provide our uniformed services employees with a variety of resources and career guidance when they return to work after active duty. We also take part in a variety of efforts to assist the veteran community.