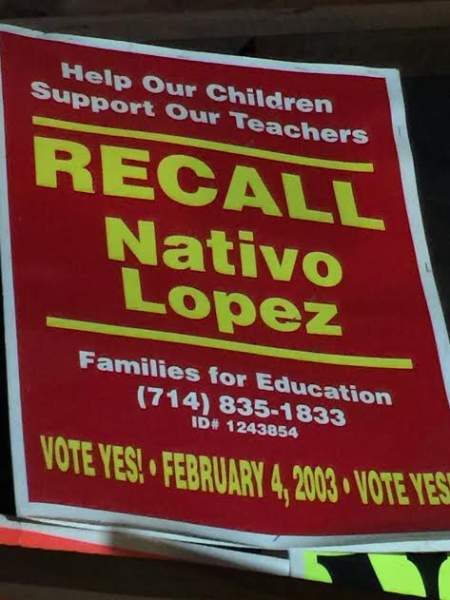 Do you remember Nativo Lopez? He was a Santa Ana School Board member who was recalled in 2003 due in part to allegations that he was impeding the implementation of Proposition 227 in the 62,000-student school system. Prop. 227 was the measure backed by wealthy Republican Ron Unz that put a stop to bilingual education in California. Unz also spent $100,00 to gather the signatures that put the Lopez recall on the ballot.
But in the November General Election this year California' voters reversed Prop. 227 – by passing Prop. 58 they restored bilingual education in the Golden State. And this week the Santa Ana City Council passed a Sanctuary City resolution.
Perhaps Lopez was ahead of his time? He fought for bilingual education and he stood up for the undocumented. And he paid the price for that. But now the Santa Ana City Council appears to be taking up his mantle.
Current Santa Ana City Councilman Sal Tinajero knows full well what happened as he was on the SAUSD School Board with Lopez during the recall. That recall election divided Santa Ana. Mayor Miguel Pulido, who is still in power today, was a driving force behind the recall. So was Mark McLoughlin, who was defeated in November when he tried to get elected to the same Santa Ana School Board that Lopez was recalled from.
Maybe it is time for Councilman Tinajero to issue a City Council proclamation honoring Lopez, whose political career was dashed by the recall election? Lopez at the time was riding high and we all figured he was going to eventually challenge Pulido. Instead Lopez was run out of town. I am not even sure what Lopez is up to any more.