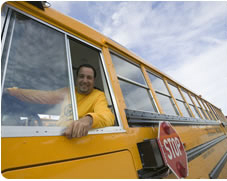 I don't know why unionized school bus drivers are allowed to go on strike – all that does is hurt working families and kids.  But the good news is that so far the SAUSD has been able to avoid a bus driver strike with negotiations ongoing.  Here is there latest update on the matter:
SAUSD NEWSBRIEF-March 5, 2012
Transportation
The Santa Ana Unified School District has been informed that Durham School Services, will provide bus services to your student through Wednesday, March 7, at the regular time and regular route. 
Any new information regarding bus service the rest of the week will be available on the new District Transportation Hotline at 714-558-5520.
Please be assured that SAUSD's Transportation Department is working diligently to prepare for all possibilities to avoid disruption of service so that our most needy students can attend school in a safe environment and timely manner.
We urge you to check the District Transportation Hotline at 714-558-5520 to get the latest information.
he Santa Ana Unified School District staff extends its sincere appreciation to our parent community for their understanding and cooperation at this very challenging time.
###